The exact sum of the final bid doesn't really matter, as the increase of this painting's value over 60 years surpasses the wildest dreams of any hedge fund manager.
In 1958, the work switched owners for the ridiculously low sum of $60, as it wasn't believed to be an original Leonardo da Vinci painting. Now, New York auction house Christie's expects "Salvator Mundi" to fetch $100 million (nearly €85 million) at auction on Wednesday evening.
"Salvator Mundi," or in English, "Savior of the World," is one of the perhaps two remaining Leonardo da Vinci works to still be privately owned. The authenticity of the second painting, "La Bella Principessa" is currently contested — as previously was the case for "Salvator Mundi."
The "Salvator," an oil painting on walnut wood depicting Christ holding a crystal orb, was long believed to be lost but it reappeared in 2005 in unexplained circumstances. Art experts spent years analyzing the painting and in 2011, they came to the conclusion that it was authentic. At least, most of them did.
Read more: Leonardo da Vinci unveiled his enigmatic 'Mona Lisa' 500 years ago
Good work of collaboration?
Among the doubters is the director of the institute for art history at the Leipzig University, Frank Zöllner. "The draft was certainly done by Leonardo da Vinci, and he presumably contributed to painting the work," said Zöllner. However, some findings speak for it being produced by Leonardo's workshop, and completed by his students. Usually the worth of a good workshop painting is estimated at $20 million, according to Zöllner.
The owner and the auction house, therefore, have a strong interest in maintaining that the painting is an authentic work by Leonardo.
"Salvator Mundi" is believed to have been created around the year 1500. There are less than 20 Leonardo paintings that have survived to this day.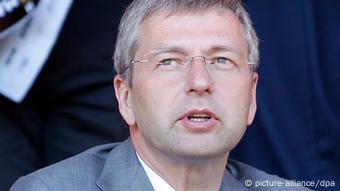 Rybolovlev acquired the "Salvator Mundi" in 2013 for $127.5 million
Christie's specialist Alan Wintermute has called it "the Holy Grail of old master paintings." For such a treasure, potential bidders are ready to pay astronomical sums. Russian billionaire Dmitry Rybolovlev, who became the owner of the work in 2013, paid a princely sum of $127.5 million.
Rybolovlev feels was cheated by art dealer Yves Bouvier, who acquired the painting for $80 million before reselling it a just a few days later with a markup of nearly $50 million.
"Salvator Mundi" was actually only one of several paintings Bouvier sold to Rybolovlev, a $2-billion package altogether, according to a report by The New York Times.
Read more: Nazi-seized Picasso painting sells for $45 million at auction
'Symbol of extreme wealth inequality'
The art world is wondering why Rybolovlev is now ready to sell "Salvator Mundi" for nearly $30 million less than what he paid for it — although the final bid could also outdo Christie's estimates.
The auction is more than just about the art, according to art historian Zöllner. "The painting is a symbol of the world's extreme wealth inequality," he said. For people bidding on this work, it doesn't make a big difference if they pay $100 or $200 million.
There's only a small number of potential bidders in the world. Serious collectors might be frightened by the painting's contested authorship, while most museums couldn't afford the estimated price tag.
Another question remains: Will a sheikh or Chinese billionaire be ready to hang a painting of Christ on their wall?