Klaus has called manmade global warming a myth and questioned sanity of Al Gore, the former US vice-president who received the 2007 Nobel Peace Prize for turning a spotlight on climate change.
Most recently, Klaus expressed hopes the EU would give up its ambitious plan to spearhead the global struggle against climate change in the face of the global financial crisis.
From his vantage point in Prague's Hradcany castle, Klaus could be involved in negotiating a new set of EU climate laws while the Czech Republic chairs the EU in the first half of 2009.
That could happen if EU leaders fail to agree on a plan at their December summit, where a disputed proposal to cut EU greenhouse gas emissions by 20 percent by 2020 is on the table.
In any case, the Czechs will lead the EU in the run-up to a crucial global climate conference in Denmark late next year.
Climate on the backburner?
Having Klaus at the helm of the 27-member bloc "is clearly going to cause some anxiety," said Simon Tilford, chief economist at the London-based Center for European Reform.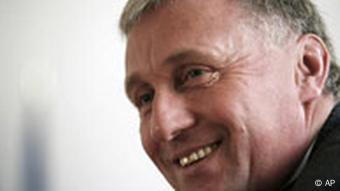 Topolanek doesn't agree with his president on climate change
While presidential office in the Czech Republic is largely ceremonial and the center-right government of Prime Minister Mirek Topolanek does not share Klaus' views, western Europe worries that "Czechs would not attach as much priority" to the climate efforts, Tilford said.
"It is unfair to say: If we don't agree this year we won't have it," he said. "But there are some concerns because the Czech government is not as enthusiastic."
The Czech government has tried to alleviate such fears.
James Hunt, the Czech environment minister's climate envoy, recently said that if internal EU squabbling spills into next year, "the Czech presidency will make every effort to achieve adoption" of the climate package in early 2009.
Pro business
But Czech officials also made it clear that they would prefer a softer, pro-business plan.
"We can't fight for the climate at the expense of our competitiveness," Topolanek said last week. "That is especially valid at a time of the global financial crisis."
Across the region, coal-fired power plants are a big reason why countries balked at the EU proposal.
Central European energy firms, including the Czech Republic's state-controlled CEZ that pours billions of koruny in dividends into state coffers, would like to see the package scrapped.
They especially oppose a plan that would force them to buy carbon emission permits at auction from 2013. The rule would add an extra cost amid the financial crisis and certainly hike electricity prices, they say.
"A unilateral cut of emission limits combined with a brutal start of credit auctions will not help the climate because nobody will join the EU and our emission cut of 20 percent ... will be easily offset and surmounted by a rise in emissions in China," Topolanek said.