Miguel Mario Diaz-Canel Bermudez was named the new president of Cuba on Thursday, marking a generational shift for the island long ruled by Fidel Castro and his younger brother Raul.
In his inaugural speech, the 57-year-old Diaz-Canel praised the revolutionaries of the Castro generation.
The communist revolution in Cuba "carries on and will carry on," he said.
The relatively unknown Diaz-Canel previously served as a minister of higher education and vice-president. In a video leaked to the media last year, he notably defended Cuba's academics and bloggers from criticism from the party hardliners, but also pledged to silence certain media outlets and labeled some European embassies as outposts of subversion.
Raul Castro handpicked Diaz-Canel to become his successor, and the decision was recently confirmed by Cuba's rubber-stamp parliament, the National Assembly, with 99.83 percent of the vote. In state-run media, Diaz-Canel is presented as a loyal and stable leader ready to provide continuity to the Communist-ruled island.

Read more: What's in store for Cuba after the Castros?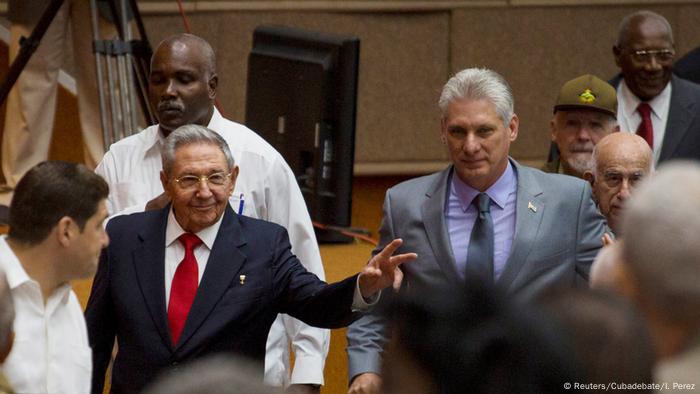 Raul Castro (center left) picked Diaz-Canel (right) as his successor
Cuba still 'needs' Raul Castro
Addressing the parliament on Thursday, Diaz-Canel lauded his predecessor Raul Castro. The 86-year-old younger brother of the late Fidel Castro is set to hold on to power by remaining the head of the Communist Party, at least until his scheduled retirement in 2021.
"I confirm to this assembly that Raul Castro, as first secretary of the Communist Party, will lead the decisions about the future of the country," Diaz-Canel told the National Assembly. "Cuba needs him, providing ideas and proposals for the revolutionary cause, orienting and alerting us about any error or deficiency, teaching us, and always ready to confront imperialism."
Castro's jab at Trump
In turn, Raul Castro said he expected Diaz-Canel to take over as Communist Party head in 2021.
"From that point on, I will be just another soldier defending this revolution," said Castro, who fought alongside his brother Fidel to bring down dictator Fulgencio Batista in 1959.
Castro also gave a vision for Diaz-Canel's future, saying he believed Diaz-Canel would serve two five-year terms as president. After the terms expire in 2028, Diaz-Canel should use his other position as the head of the Communist party to guide his own successor before stepping down in 2031.
Raul Castro also commented on the halting thaw between Cuba and the US, saying that Donald Trump's election victory set bilateral ties back again. The backslide is characterized by an aggressive and threatening tone, he said.
Previously, the US said it had no intention to change its policies towards the island.
"The United States has no expectation that the Cuban people will see any greater freedoms under Castro's handpicked successor," a White House spokeswoman said.
dj/msh (AP, dpa, Reuters)