Some 8 million Cubans voted on Sunday to ratify the island's new National Assembly, paving the way for the selection of a new leader when President Raul Castro steps down next month.
Just over 600 pre-selected candidates will be elected to parliament following Sunday's vote. The final results are due to be announced at 4 p.m. local time (2000 UTC).
Voter turnout was just under 80 percent, according to Cuba's National Electoral Commission.
Read more: Cuba goes online
While voting is voluntary, going to the polls is also considered an act of "revolutionary affirmation." Abstention is therefore frowned upon.
A successor to the Castro dynasty
The National Assembly will be tasked with designating Cuba's 31-member Council of State — the body that will ultimately hand-pick the new president in April, thereby ending the Castro family's political reign over the communist-run island after almost six decades.
Raul Castro took over the presidency in 2006 from his ailing brother Fidel, who led Cuba for almost 50 years after seizing power during the 1959 revolution. Sunday's vote will be the first since Fidel died in 2016.
Vice President Miguel Diaz-Canel, a trained engineer who has risen up the party's ranks over some 30 years, is widely expected to take over. Outgoing President Raul Castro is expected to stay on as leader of the all-powerful Communist Party.
Sunday's general election will also instigate a generational shift at the lower end of Cuban politics. Several analysts expect a number of revolutionaries currently seated in the parliament to also retire once Raul Castro steps down.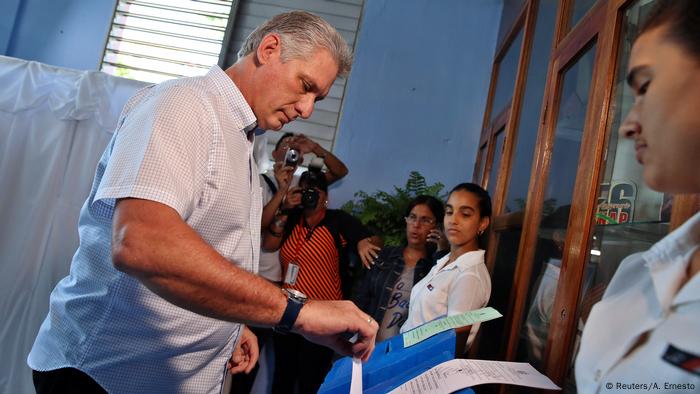 Cuban Vice President Miguel Diaz-Canel casts his ballot in an election likely to pave the way for him succeeding Raul Castro as the country's president
The new leadership is unlikely to further embrace major new market reforms on the island. After casting his ballot on Sunday, Diaz-Canel took to state television to lambast the United States, accusing it of "resuming Cold War rhetoric."
While not mentioning US President Donald Trump by name, the vice president said the current White House administration had "offended Cuba."
"The revolution is being attacked in the middle of a situation which has been deteriorating," Diaz-Canel said. "I am sure that, sooner rather than later, we will defeat the imperialist plans."
On Sunday, Cuba's Foreign Ministry tweeted: "The next president may not have that surname, but he will undoubtedly be a son of the Revolution."
Read more: Opinion: Fidel Castro's path of broken promises
Tasks ahead for Cuba's new government
Cuba's new government faces a host of hurdles as it takes over. After an upswing in relations with the United States under President Barack Obama, his successor, Donald Trump, has vowed to maintain Washington's decades-long trade embargo on its communist neighbor. Responding to Fidel Castro's death in 2016, Trump described the revolutionary leader as "a brutal dictator who oppressed his own people."
Cuba also used to rely heavily on aid from ally Venezuela. However, a financial crisis and steep fall in living conditions there has seen those funds dry up.
Diaz-Canel will therefore face a far stiffer test than his predecessors, and this will not be helped by his lacking the same moral authority enjoyed by the revolutionary Castro brothers. The incoming president will therefore have to earn his legitimacy in the eyes of the voters, by addressing their concerns and raising living standards.
Voting in communist Cuba
The National Assembly vote, held every five years, is unique among the small handful of communist-run states —something that gives the Cuban government a sense of democratic legitimacy.
Although candidates are not required to be members of the Communist Party, Cuba's only legal party, a vast majority are.
"The designation of candidates is based on merit, abilities and the commitment of the people," Raul Castro said when he announced the elections last year.
The Cuban Communist Party's official daily, Granma, wrote ahead of the vote: "Nobody exchanges promises for votes, or boasts of his abilities to get supporters ... this is the true and exceptional face of what we proudly call socialist democracy."
Voters on Sunday ratified candidates from two separate lists — one for the 605-seat National Assembly and the other for the 14 provincial assemblies.
While opposition is limited, criticisms center mainly on the presidential selection and the fact that the leader is not elected through a direct public ballot.
Read more: How young Cubans are learning capitalism
Each evening at 1830 UTC, DW's editors send out a selection of the day's hard news and quality feature journalism. You can sign up to receive it directly here.
dm/ng (Reuters, AFP)