Following weeks of political deadlock, legislators in Zagreb voted on Monday to dissolve parliament with a majority of 137 votes. Two MPs voted against, while one abstained.
Speaker Zeljko Reiner confirmed that the dissolution "will come into effect on July 15," after which a new election must be held within 60 days. The vote is expected to be held in early September.
Vote of no confidence
The vote on Monday came less than a week since parliament ousted Croatian Prime Minister Tihomir Oreskovic in a vote of no confidence - put forward by the ruling coalition between the Croatian Democratic Union (HDZ) and its junior partner, the reformist Most (The Bridge).
Cobbled together after indecisive November polls, the fragile coalition was beset by internal disputes from the beginning - with particular concerns over Croatia's shift to the right.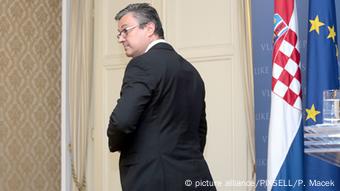 Croatian Prime Minister Tihomir Oreskovic was ousted in a vote of no confidence
Despite helping to bring Oreskovic to power in January, the ruling right-wing coalition turned against the prime minster last month following a conflict of interest affair involving Deputy Prime Minister and HDZ leader Tomislav Karamarko.
Corruption allegations

Karamarko came under pressure after a national ethics watchdog found that his wife had received a consultation fee of 60,000 euros ($68,000) from a lobbyist acting on behalf of the Hungarian mineral oil group MOL.
For years, MOL and the Croatian government have been at loggerheads over control at Croatia's public oil company INA. According to Croatian media reports, MOL appears to have gained its influence at INA through corruption. Following those allegations, junior coalition partner Most called for Karamarko to step down as deputy head of government.
Economic reforms
As the coalition descended into chaos, the HDZ and Most launched a no-confidence motion against Prime Minister Oreskovic. The parties accused the premier of trying to boost his own political power, instead of dealing with the economy as he had pledged - claims which Oreskovic denies.
In light of the political impasse, Croatia's economy has continued to suffer, with the snap election now expected to further delay the country's much-needed economic reforms. Since joining the EU in 2013, Croatia has continued to be one of the bloc's worst performers.