A regional court in Stuttgart, Germany acquitted carmaker Porsche's former CEO Wendelin Wiedeking and ex-CFO Holger Härter on Friday of all charges of market manipulation in connection with an attempted takeover of Volkswagen in 2008. The court's decision signifies an end to another chapter in one of the largest business scandals in German history.
"There is nothing in the Stuttgart prosecutor's allegations - nothing," ruled presiding Judge Frank Maurer on Friday.
Prior to Friday's verdict, prosecutors in the case urged the court to sentence both Wiedeking and Härter to over two years in prison for manipulating the market and misleading the public prior to an unsuccessful 2008 takeover of Volkswagen.
The prosecution also accused Porsche managers of intentionally concealing their plans to raise the company's stake in VW from investors and regulators, while publicly denying their takeover plans.
The two former executives denied the charges, with defense attorneys asking the court to fully acquit their clients.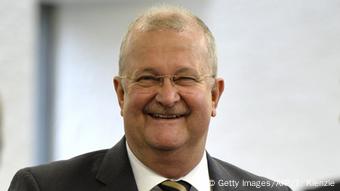 Ex-CEO Wiedeking was found "not guilty" of market manipulation charges on Friday
Manipulation charges
On October 26, 2008, carmaker Porsche announced that it owned 42.6 percent of VW's common stock and had acquired options for another 31.5 percent that would bring its total stake in the company to 74.1 percent. The company said it was seeking to obtain 75 percent of VW shares. The announcement resulted in a frenzy of share trading activity.
The shock announcement drove VW's stock price up from 290 euros to 1,005 euros per share, making it the world's most valuable company for a short period of time. Estimates say that speculators lost about 15 billion euros ($19 billion) in two days of trading, as a result.
The takeover plan eventually unraveled in 2009 after Porsche ran into problems trying to finance a 10 billion-euro loan, leading to the VW group mounting a rescue operation that led to it acquiring Porsche. Wiedeking and Härter were finally forced to resign.
A group of 19 US hedge funds sought damages against Porsche, but a German court dismissed their claims, saying they could not prove the luxury sports carmaker acted "deliberately and contrary to honest practices."
rs/jm (AP, AFP, dpa, Reuters)