A positive atmosphere has returned to climate negotiations, though an international deal to tackle carbon emissions is looking increasingly unlikely this year, following two weeks of United Nations-backed talks in Bonn.
Delegates from a range of countries spoke of new trust in their meetings, and welcomed the change in mood compared to last year's summit in Copenhagen.
"This session has made important progress," said the UN's outgoing climate chief Yvo de Boer, in what was likely his last press conference in office.
"Countries talked to each other instead of shouting at each other."
De Boer said that at the talks in Bonn, the US appeared to have bridged some of its differences with developing countries in discussions over financial aid to help poor nations adjust to climate change.
He also said progress was made in factoring things like forestry protection and agriculture into a future deal to limit emissions of greenhouse gasses.
UN climate chief Yvo de Boer looked visibly relieved to be leaving office
Crunch issues
Yet major deadlocks over things like climate finance and emissions targets remain unresolved.
"Whilst the mood amongst negotiators has mostly been more constructive than in April and last year, the underlying disagreements that derailed the talks in Copenhagen are still to be resolved," said the British charity Oxfam in a statement.
On the issue of money, the European Union reaffirmed its pledge to get the ball rolling with over seven billion euros ($8.5 billion) worth of 'fast start' finance for developing countries over the next three years.
However, it remains unclear how much of this will be 'new' money, and not funds recycled out of existing aid budgets.
"The money is on track," the EU's Laurent Graffe told a press conference earlier this week, but Colin Beck, vice chair of the Alliance for Small Island States (AOSIS) made his reservations clear.
"We still do not know where the money is. We need to see it. Our people need to touch it. It remains in the air," Beck said.
On the issue of targets, a UN report released at the conference found that the world would in fact increase its emissions by 2020, if accounting loopholes aren't eliminated and rich nations don't improve on their pledges.
To put that in perspective, scientists say the world will have to cut its emissions by up to 40 percent by the end of the decade to maintain a reasonably safe climate.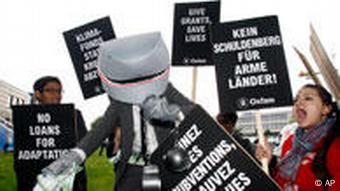 Climate activists want a far more ambitious agenda than what's on offer
Developing misgivings
Indeed some regarded the outcome of the Bonn talks as "a step backwards."
Organisations sympathetic to developing countries accused rich nations of backtracking on their own commitments while "pocketing" the goodwill gestures of countries like China and India. Both major developing countries have taken a number of unilateral measures to reduce their emissions despite having no obligation to do so under current arrangements.
"The text has become even more imbalanced towards developed country interests. It leaves out many important points that the old text included," said Martin Khor, director of a think tank for developing countries called the South Centre.
As an example, Khor said the current draft text for a treaty no longer referred to any requirement for developed countries to list their emissions pledges within a legally binding compliance mechanism like the Kyoto Protocol.
"We are edging towards system of voluntary pledges," he said, and blamed rich nations for seeking the same exemptions granted to the United States.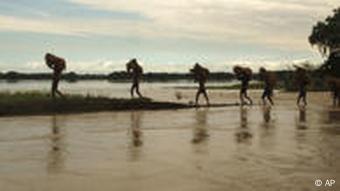 Billions of dollars will be needed to help poor nations pay for climate damage
Shifting gears down
South African delegate Alf Wills didn't share this pessimism.
"We've got problems with it (the text) as everyone has, but we are prepared to move forward on it as a basis for discussion... at least we've got a starting point," he said.
At least parties resumed talking to each other in good faith in Bonn, and not openly accusing one another of sabotaging the process as they did in the final days of Copenhagen.
Much of the delegates' time these past two weeks was spent taking, considering and discussing the answers to a range of questions, instead of rehashing old ground by pouring line-by-line over draft texts.
This meant doing "home work" on things like the "definition of what a 'vulnerable' country is," said Keya Chettergee of the US branch of World Wide Fund for Nature (WWF).
One official close to the process said it was necessary for parties to "step back" in order to find a way forward, but was pessimistic about what this implied for the chances of a deal in Cancun, Mexico, in December.
Indeed a poll of delegates' expectations, conducted by the WWF, found that most expected no agreement to be reached before December 2011 in South Africa at the earliest.
Author: Nathan Witkop
Editor: Chuck Penfold