Texas Tech University Climate Science director Katharine Hayhoe thinks about her professional and personal carbon footprint all the time, and like many other scientists, she's come to the conclusion that flying less is the best way to reduce it.
As a prominent climate science communicator, she is asked to speak at numerous events each year — ranging from discussions with community groups to taking part in workshops and academic seminars. Her first response is always to ask if she can appear virtually.
Read more: How to be a travel addict and still spare the environment
"I often get the response, 'well, we've never done that, but we're willing to try!,'" Hayhoe told DW. "Many of my colleagues aren't sure about this approach but I am doing what I can to change the culture."
Hayhoe waits until she has several events to attend in any one area before planning travel.
"When I went to the UK in November, I'd been collecting invitations for nearly two years. I stayed near a centrally located train station in London and spent each day at a different university or organization," she said.
She also offsets her travel-related emissions with a certified program called Climate Stewards that invests in local economies in Kenya, Ghana and Mexico. "They are ultra-careful in ensuring that the carbon offsets they invest in are sustained," she said.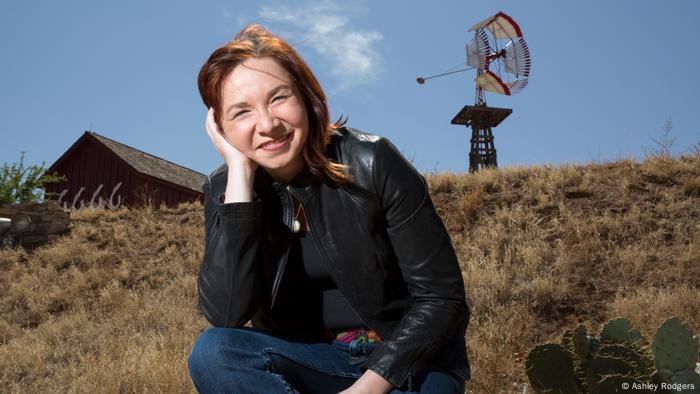 Researchers and institutes have to set a good example when it comes to reducing CO2 levels, says Katharine Hayhoe (pictured)
Hayhoe has made numerous other changes to her life. She's bought a plug-in hybrid car — such vehicles combine a petrol or diesel engine with an electric motor and a rechargeable battery. Hayhoe also invests in high-efficiency appliances and has installed a hanging laundry rack on her ceiling to dry clothes, so she doesn't have to use a tumble dryer.
"We eat lower down the food chain, prioritizing free-range dairy, eggs and meat: but still enjoy the occasional brisket (I live in Texas after all!)," added Hayhoe. "We get our power from a local co-op that includes wind energy, and are saving up for 'solar shingles' on our next home."
Going low-carbon isn't all work, she says: "We have a network of off-road trails near our house but instead of noisy four-wheelers, we ride electric trail bikes."
She believes universities and research institutions — including her own — could do much more to cut their carbon footprint.
"My own university has zero wind or solar energy on campus and, as far as I know, no plans to install any, even though it's located in an area with more than 250 sunny days per year, and where wind and solar energy prices are some of the lowest in the country," she said.