As Syrians continue to flee the conflict that rages in their home country, many via war-torn Libya, or Tunisia, which #link:http://www.dw.com/en/in-tunisia-many-young-people-heed-the-call-of-is-and-al-qaeda/a-18608615:is struggling to keep its youth from joining ISIS#, it's all too clear that the effects of the uprisings that swept the southern Mediterranean belt in 2011 are ongoing. Yet already there is talk of more on the horizon.
"Another revolution is coming for sure," Hamza Hamouchene, co-founder of Algeria Solidarity Campaign, told DW. "We can't predict when, but there is no doubt that the negative situation in North Africa is going to be exacerbated by the climate crisis."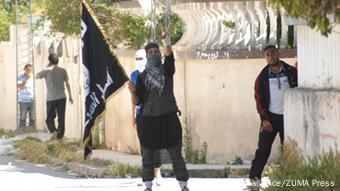 Tunisia struggles to keep its youth from joining ISIS
Hamouchene, who is co-editor of a new collection of essays entitled "The Coming Revolution in North Africa: The Struggle for Climate Justice", says populations in the MENA region are already facing the harsh realities of climate change, with longer periods of drought and extreme flooding forcing them off their land and into uncertain futures.
His big concern is that while leaders, both in North Africa and across the world, understand the gravity and urgency of the problem, their solutions are not "progressive enough" to tackle it from the roots up.
"They see it as environmental, but really it is a social, political and economic issue linked to the structural crisis of the global system," Hamouchene told DW. "If we talk about climate issues and addressing the climate crisis in a sustainable and fair way, we cannot separate it from the question of democracy."
Taking an inclusive approach
Democracy is a big word in a region with a track record of dictatorship. But a participatory process, Hamouchene insists, is the only way to ensure that people in the Sahara, for example, have the water reserves they need for agriculture, and that fishing communities in the North can continue to earn a living in time-honored fashion.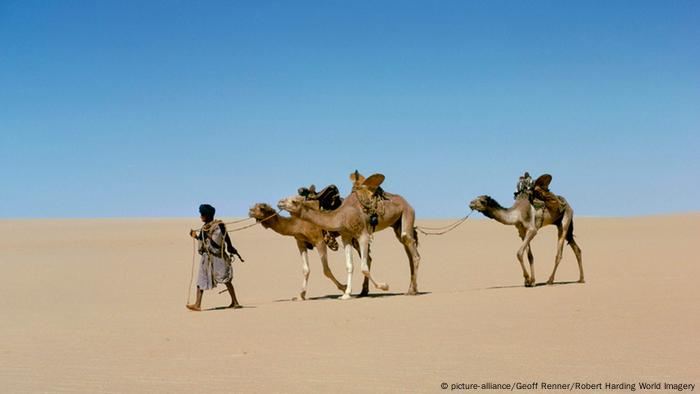 Local communities need to involved to fight the effects of climate change
"It is local communities who are struggling, so any solution needs to involve them," he said. "They have ancestral knowledge and know their environment well enough to propose ways of adapting to it."
Yet their proposals, he adds, are often ignored in favor of a top-down "highly polluting extractionist" model that supports oil and mining multinationals with little or no benefit to local communities.
"States in North Africa are not really working for the people," he said. "We can't keep the same paternalistic approach where corrupt authoritarian leaders tell you what to do."
Balancing power
Moshe Terdman of Muslim Environment Watch, says that although governments in the region - in which he also includes the Sahara and Sahel - know they need to take a more participatory approach, they are reluctant to grant local populations much influence.
"They are trying to be inclusive, but are also trying to steer events their way," he told DW.
He cites water, energy, food, land degradation and desertification as the five serious environmental security risks facing North Africa. And each one of them, he says, is heightened by the region's population growth.
"When the desert starts to invade people's space, they come to the big cities, and that creates a lot of stress on very limited resources." High levels of unemployment only add to the complexities of the situation. "Governments understand this is a time bomb," added Terdman.
Their response, Terdman explains, has been to set goals that will eventually move them away from fossil fuels. In the case of Algeria, that led to the proposal of fracking, which triggered wide-scale protests in the Saharan town of Ain Salah. And that, according to Hamouchene, #link:http://www.aljazeera.com/news/middleeast/2015/05/algeria-opposition-flares-fracking-plans-150505114107040.html:is a sign of the times#.
"I was not expecting the people of the Sahara to rise, but they did, so it can happen any time," he said. "When people feel threatened and that their environment is going to be destroyed, they will rise."
Morocco leads the way
A few years ago, Algerians might have stayed quiet, but awareness of the climate issue is growing across the region. It might not feature at the top of the agenda, which is not surprising given the problems of conflict and terrorism, but there are signs of progress. Morocco might just be a case in point.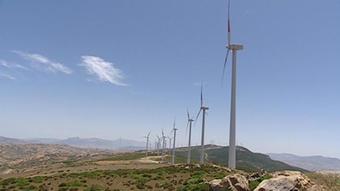 Morocco will host the 2016 UN international climate talks. The country is seen by some as leading the way in North Africa on environmental issues
"A few years ago, Morocco was known for arresting environmental activists, but now the situation has changed," Terdman said. Indeed, the country, which will host the 2016 UN international climate talks, is seen by some as setting a positive example for its neighbors in the region.
"Morocco has taken a very active approach towards the problem and has been the spokesperson for African states at the past two UN Climate Conferences of the Parties," Michael Gajo, who works in the country for Germany's GIZ development agency said. "It has distanced itself from Gulf States for example, who are following different interests saying they want compensation for loss of oil as a source of fossil fuel."
He says the nation's progress can in part be attributed to the "eloquent" environment minister, Hakima El Haite, who has positioned herself on the international stage.
But Gajo agrees it is vital to look at the bigger picture, to join the dots between climate change, unemployment and migration, for example. "There are connections, but the way they are understood at a political level and the way they are talked about are two different things."