Climate change is already hitting the continent hard. Floods in Nigeria, famine and drought in the Sahel, the shrinking of Lake Turkana are all just a preamble of what is to come if the continent does not act fast. As the two week UN climate conference gets underway in Doha, Qatar, the African UN regional group at these talks is hoping for a "second commitment" and funds that will help their countries adapt to climate change and its effects.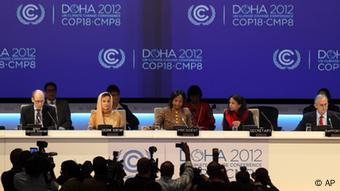 Africa is hoping for an extension of the Kyoto Protocol at the Doha conference
Extending Kyoto
"African countries are looking forward to a commitment period that doesn't carry over excessive emission rise or hot air," Ruth Mhlanga, youth and solutions coordinator, Greenpeace Africa told DW's Africalink show.
This commitment is an extention of the Kyoto protocol of 1997 which binds developed nations to cut greenhouse gas emissions by an average 5.2 percent below 1990 levels between the years 2008 and 2012. The African UN regional group at the conference says failure to extend Kyoto would leave only national actions, with no legally binding U.N. framework.
"The Kyoto Protocol is going to be very important for us," says Seyni Nafo, spokesman of the group. "And ambition is very low." He adds. Russia, Japan and Canada pulled out in recent years, meaning that Kyoto backers are down to a core led by the European Union and Australia that account for about 14 percent of world emissions.
Rising temperatures
A UN survey warns the world is on target for a rise in temperatures that will cause more floods, drought, heat waves and rising sea levels. Africa should prepare for the worst.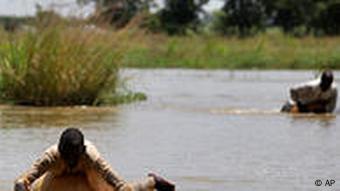 Over two million people were affected by flooding in Nigeria in 2010
"The average increase in temperature in Africa is likely to be higher than the average increase globally," Micheal Kliene, deputy executive director of IUFRO - The World's Network of Forest Science told DW.
Climate change will have an impact on humans, eco systems and economic activities on the continent. "Climate change is no longer a distant threat" said Mhlanga. The continent was already feeling the effects of climate change. "The disasters that we have seen throughout this year highlights that climate change is something already amongst us, " she added, underlining that Africa was "extremely vulnerable and we need to act now."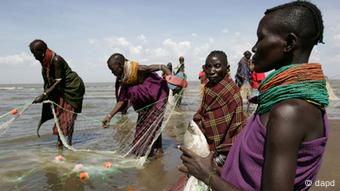 Lake Turkana is drying up putting the livelihood of millions of people at risk.
Adapting to climate change
Rich nations have so far delivered nearly $30 billion (23 billion euros) in grants and loans for poor countries to begin cutting emissions and adapting to the effects of global warming. But those commitments made in 2009 expire this year. Fresh committments are needed.
"Commitment to funds for mitigation and adaptation measures is important," said Mhalanga.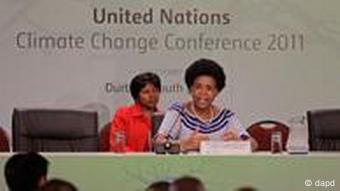 With Durban as the conference venue in 2011, some had hoped for greater emphasis on Africa's experience of climate change
Some countries like South Africa have started a renewable energy procurement programme to help combat climate change. The conference might be able to give governments new insights into what they could do next.
"A faster response to climate change is necessary and possible." said the head of the UN Climate Change secretariat Christiana Figueres.
Last year, the climate change conference was held in Durban South Africa.