The musical roots of Azerbaijan lie above all in Turkey and Iran. Even today the most important style of music, the centuries old Maqam, can heard across the entire region of central Asia. The Muğam, as the Azerbaijani interpretation is known, is not a mass phenomenon but was the music of the urban elite, comparable to Arabic or European classical music. In contemporary times, the style of music was generally found at home and within intellectual circles.
In the communist Russian era, this type of music was banned in favor of worker and peasant songs. Local traditions were suppressed as far as possible, but could not be killed off. The poetic texts were forced to make way for more conventional, jubilant songs. But the centuries old verbal transferral of songs continued to function, despite musical notes being introduced and with that the Western tone system which could not carry the Eastern quarter tone scale.
What is Muğam?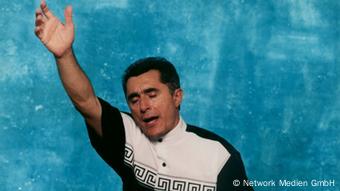 Alim Qasimov was awarded the UNESCO International Music Prize in 1999.
Turning the deepest emotions of the human soul in all their diversity and moods into art is the idea behind Muğam, the classical, improvisational music from Azerbaijan. This tradition has existed for 700 years and is still being cultivated to this day. A Muğam is similar to a key tone. It dictates which tones are used on a musical scale, but also which musical phrases and embellishments are incorporated.
As a general rule, singers – sometimes there is more than one – are accompanied by a bağlama saz (a type of stringed instrument similar to a lute), a violin and a frame drum. Despite the many specifications and common bases, improvisation is the core of Muğam. The most famous singer in Azerbaijan is the 54-year-old Alim Qasimov. He was awarded with the UNESCO International Music Prize in 1999. Qasimov is also a master of the ancient folk art of Ashik, the pastoral bards and story-tellers who also play the saz.
The way to the modern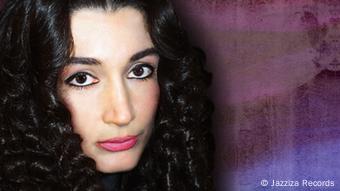 Jazz singer Aziza Mustafa Zadeh has lived in Mainz since 1989.
Both musical directions have large improvisational components, and spontaneous embellishments made by the singer. And where improvisation is concerned, jazz can't be far away. In the 1950s, a lively jazz scene developed in Azerbaijan. Before that, jazz was forbidden under Stalin.
Jazz in Azerbaijan took on a unique hue as it incorporated European as well as Arabic musical styles in the Muğam tradition. And so Muğam jazz was created. Vaqif Mustafa Zadeh was one of its leading proponents. He unfortunately died in 1979 before reaching the age of 40. But he left behind his daughter Azizah Mustafa Zadeh, who is not only a worthy successor but also an exceptional talent in her own right.
The pianist and singer slickly combines improvisational traditions from her home country in her jazz and classical interpretations. In breathtaking tempo, Azizah Mustafa Zadeh sings along to complex melodies which she improvises on the piano. That led to her working with big names such as Al Di Meola, Stanley Clarke and Bill Evans. She has lived in Mainz since 1989, a city partnered with Baku – the capital city of Azerbaijan.
Local tradition versus European pop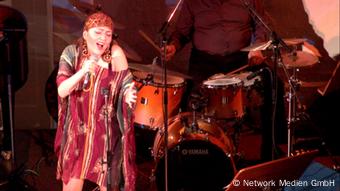 Sevda Alekperzadeh has released two albums with German label Network.
When it comes to pop music, Azerbaijan tends to look to its neighbor Turkey. But that is completely unnecessary. Sevda Alekperzadeh, or simply Sevda, comes from Baku. She has mastered the art of uniting a range of different musical styles. The 34-year-old has been working intensively with Muğam, folk music, jazz, classical and Western influenced pop music from an early age. She has already released two albums with the German record label Network.
At this year's Eurovision Song Contest, Azerbaijan has shunned local tradition, opting instead for a distinctly European-style pop song. Aside from a few traditional Middle Eastern sounding flourishes in the background, "When the Music Dies" by Sabina could almost represent any country in the competition.
Author: Luigi Lauer / hw
Editor: Jessie Wingard