There were 29 players who made the trip to Qatar as part of Bayern Munich's winter break training squad. One person stuck out from the crowd, and that is not because he is 1.9 meters (6 feet, 2 inches) tall.
Christian Früchtl, a Germany U16 goalkeeper who turns 16 at the end of January, was living every boys dream. He was training with his boyhood club and doing drills with his footballing idol, Manuel Neuer, all while skipping out on a week of school.
After beating out Austrian youth player Ivan Lucic for a seat on the plane to Qatar, Früchtl has become Bayern's new young player to watch. Not many are as impressed with his quick development as Bavarian DFB coodinator Peter Wimmer.
"I would be lying if I said I wasn't surprised by the news," Wimmer told the German FA website. "Everyone involved in the development of young talent here in Bavaria is though of course incredibly pleased. It shows that we have made the right decisions in the past."
Built to be a footballer
First thing Neuer noticed about his 15-year-old protégé? "Shoe size 48 and two thirds: I checked it," he told the Bundesliga website. "I can't loan him my shoes. I think I was about a half a head shorter than him at his age."
Size was always one of his most outstanding attributes, but it was not the only one. Früchtl got on Germany's radar at a very young age, and was playing as an outfield player as well as between the sticks.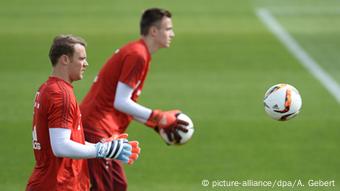 At just 15, Christian Früchtl got to train with his boyhood idol, World Cup winner Manuel Neuer.
"Christian became known to the scouting system at a very young age," Wimmer said. "Initially this was because of his unusual body size, and because he was very good as an outfield player as well as a goalkeeper."
His way-above-average size did not stop him from rising up the Bavarian youth ranks. At 14, he was starting for SpVgg Grün-Weiß Deggendorf's U17 team, and moved to Bayern, whose scarves still hang in his bedroom, a few months later. His youth career only accelerated from there, making an appearance in the UEFA Youth League on the final matchday of the group stage.
"His coordination is great despite his size and his foot size," said Neuer. "That is tough to learn. The talent is there in any case, and he has good conditioning."
Opportunity still out of reach
Bayern will play their one and only friendly this Saturday against Karlsruhe, a different approach to the winter break than in years past. The amended regimen will deny Früchtl to get match experience with his elder statesmen, but he seems content with just watching his comrades.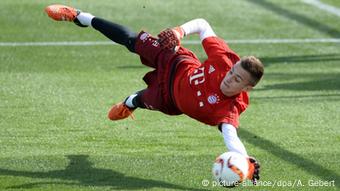 With a tall body and big feet, Christian Früchtl popped up very early on Germany's goalkeeping radar.
"That is normal. I also did that earlier when I was younger," said Neuer. "You observe the older experience keepers that already are professionals. But I'm not the only one here.
"With Tom Starke and Sven Ulreich, we have a very strong goalkeeping team where he can watch and learn things. Christian trains well, is very hungry, observant and listens well when someone is explaining something to him."
Whether the teenage protégée can turn into the next great German goalkeeper is still yet to be seen. Neuer was sure to limit the hype himself, reminding everyone he still has a lot to prove. "He knows that he needs to improve himself, then he will see that we older, experienced goalkeepers always want to improve yourself too."