South Carolina is not necessarily the first state German companies have in mind when they venture off to establish themselves in the United States. But in the past six years, 28 German companies have created around 5,600 jobs there.
The South has not only become a popular place for German companies. Chinese companies have also started catching on. Wages are low, as are utility prices such as that of electricity. It's also an employer-friendly place. For these same reasons in the past, companies worldwide usually went to Asia.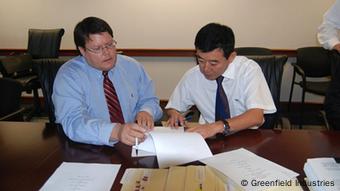 Dale Erikklä, left, and his boss, Jeff Chee of Greenfield Industries
Chinese companies
The Greenfield Industries factory in South Carolina manufactures drills for home use. It is extremely loud and the air smells like hot metal. Dale Erkkilä is the company's vice president. He points to what looks like an over-sized sewing machine behind a glass window and says, "These machines here are CNC, computer numerical control machines, these are all new machines, investments that Jeff made."

Jeff is the company's new boss. At the end of 2008, the company - along with many others in the area - was on the brink of collapse. The lasting financial crisis caused many companies still standing after the crisis of 2008 to finally collapse.
Jeff's concern TDC, which has subsidiaries on three continents, took over Greenfield Industries four years ago. He bought new machinery, built warehouses and hired new employees. Jeff's full name is Jeff Chee and he is from China.
"To me it was a blessing, because at the time when they took over, we weren't doing too good," says Darlene Wright, a Greenfield employee who has been working for the company for nearly three decades. She does not find it ironic that it is a Chinese company. "I felt it was an answer to my prayers," the woman explains, saying it "gave us hope."
Cheap energy, property and realty
South Carolina is favored among Chinese companies looking to invest in the US. Over one dozen such companies have set up there in the past year - among them, the auto parts distributor GSP and American Gravure Cylinder.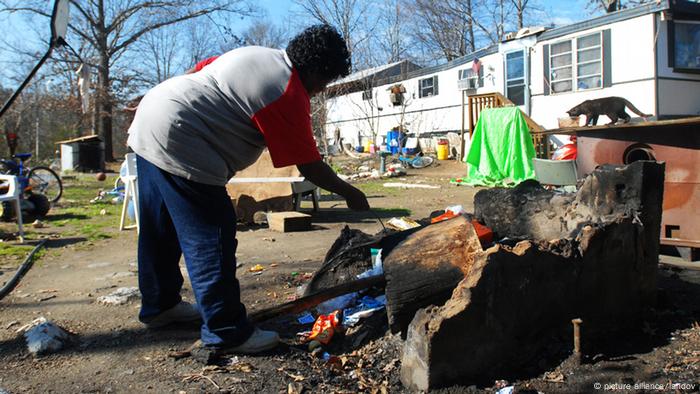 In South Carolina around 17 percent of the population lives below the poverty line


Wages are higher than in China, but the cost of Asian labor is growing considerably. Meanwhile, energy is cheap and supply of it is stable compared with the Far East. And commercial property prices are still very low on a weak US real estate market. Furthermore, products "made in the USA" bring a higher profit than ones "made in China," says Erikklä.

Standing in the shipping warehouse, he explains, "These here are all made in the USA. We also have ones made in China, but we don't get many inquiries for those - and if so, then it is usually for price comparisons."
Like in China
There doesn't seem to be any reservations about the new boss being from China. Chee explains that, though there are differences in culture and traditions, when it comes to business, the differences are few. "From company to company there are not so many cultural differences. All the employees want the company to succeed, to keep their jobs and be happy. So if you can bring a good idea and make the business succeed, everybody is happy. They love to work with you."
The acquisition of the business cost 29 million US dollars and Chee put in another 30 million to spruce the company up. It started making a profit just 17 months after the takeover. But it took a lot of work to make that happen. Assembly lines were re-arranged to run like the ones in his factory in China. Efficiency is the rule. He also implemented a bonus system used in China to reward staff who surpass their personal daily goals. Each employee's stats are displayed on a large board for all to see. Chee says this gives the staff a further incentive to work hard.
Welcome investors
Local politicians and economic developers in South Carolina have recognized investments from China as a good opportunity and have started pitching the state as a favorable location with good conditions and low labor costs.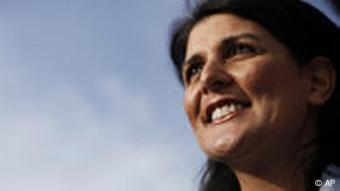 Nikki Haley welcomes investment from China
The governor of South Carolina, Nikki Haley, says that Chinese and American people are similar. "They work with passion and they work with urgency - like there is no time to waste and they want it all done yesterday."
She says this passion used to be alive in the US. "And we're saying: let's get that passion again. And that's why I think the Chinese investments are good for us. Because it reminds us of what this energy feels like. They can remind us that we need to focus on that again."
Back in the Greenfield factory, employee Katie Bruce is happy. "It really doesn't matter who owns the place, as long as we have a place to work and we can provide for our families," she says.

"I don't like flying," she adds. "It hurts my ears. But if China can come to me, why not."
Author: Miriam Braun / sb
Editor: Richard Connor