"Love of Alps" is the working film of a new Chinese-German coproduction to be set in the southern German mountain range. Most of the scenes are to be filmed in the Bavarian Alps, and to add a modern touch to the story, the film will also revolve around car racing. While that would have been a bit intense for Heidi, it's bound to appeal to young Chinese cinema-goers.
Director Dan Tan calls her movie - which involves a Chinese heiress, a German prince and a thief - a "mental spa holiday" for the Chinese. The plot is as complicated, yet also as simple as an opera: The rich and naturally beautiful Tang Tang falls in love with the 20-year-old Prince Edward.

Both share their passion for racing cars. Edward has to pay off his family debt, so he hopes to win a major race and claim the prize money. However, a thief called Xiaofei also needs money: His mother is seriously ill and needs expensive treatment. Xiaofei decides to steal the money from the royal family - that is, from Edward.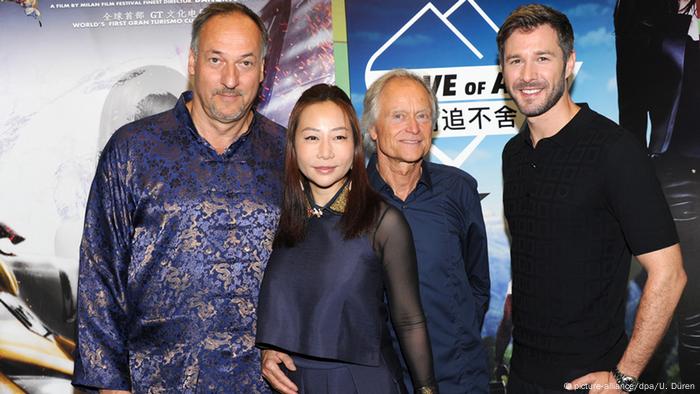 The team behind "Love of Alps": German director Helmut Hartl, Chinese director Dan Tang, German director Toni Wommer und German actor Jochen Schropp, who will have a small role in the film
Asia's love for the Alps
Like most romantic comedies, this one will probably also have a happy ending. Bollywood films follow a similar pattern - and many of them have also been shot in the Alps since the 1980s.

In recent years, however, the attraction of the mountains has waned among the Indians, according to a report in the Wall Street Journal from 2013. The success of the film "Dilwale Dulhania Le Jayenge," which led to a particular fascination with Switzerland in India in the 1990s, has lessened.

The cliché of the Alps has been overused, it seems, and the Indian audience is now more drawn to beach landscapes - much like Western audiences nowadays. But for Chinese movie lovers, the Alps are still idyllic.
Everyone wants to get married at Neuschwanstein
"The combination of royalty, racing cars and a Bavarian setting uses all potential clichés of what Germany is to the Chinese," says Anke Redl, who works for German Films, the foreign representative of German films, in Beijing.

Not all locations have been decided on yet, but the Chinese filmmakers are relying on the attraction of alpine meadows and historic buildings. Director Dan Tang already has a favorite spot. "Neuschwanstein Castle is well known in China; everyone wants to get married there," she says.
The film project was presented at the Munich Film Festival in June. It's also already received the approval of the Chinese censorship bureau, which means no mention of political grievances in China is to be expected in the film.
"We want to take over the box offices worldwide" with "Love of Alps," says director Dan Tag.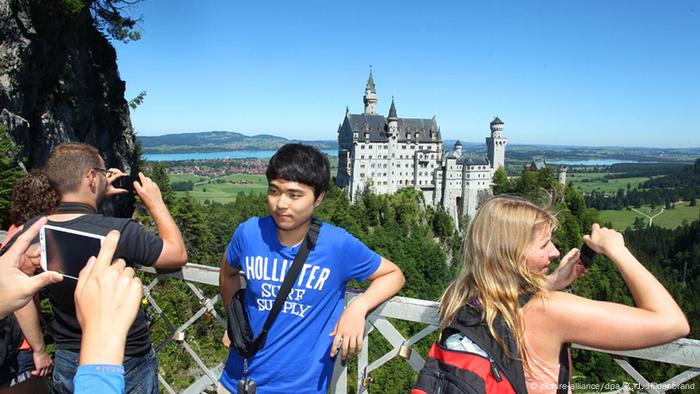 Neuschwanstein Castle is a favorite tourist destination - especially among visitors from China
Big benefits for Germany too
The film's budget is currently estimated at 16 million euros ($17.7 million), but it is expected to bring in revenues totally 10 times that amount. The German state of Bavaria is also hoping get a piece of the piece, with 90 percent of the filming to take place on its soil - which, in turn, will draw even more tourists to alpine locations.

In addition, there is money to be made in Germany via product placement, which is particularly interesting for German car companies like Audi, BMW or even Mercedes, reported news provider stimme.de.
The shooting is set to start in April 2017, and the cast of the film will be a mix of Chinese, German and international actors. Most roles have already been assigned to well known Chinese actors, though Prince Edward - the "fastest prince of the world" - is yet to be cast. Producers are hoping to secure an international name that is well known in China.
gr/rb/kbm (with dpa)