Popular Beijing avant-garde artist Ai WeiWei is a star in the burgeoning Chinese contemporary art firmament. His ability to make a stir -- even in the jaded world of conceptual art -- has been proven time and again.
Talk of the art world
Now "Fairytale," the piece he is presenting at the 12th "documenta" exhibit in Kassel, Germany, has once again made him the talk of the art world.
For the artwork, Ai has arranged sending 1,001 Chinese people from all walks of life -- street vendors, farmers, police officers, students, engineers -- to the town of Kassel for the duration of the show.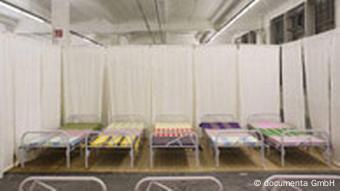 Bunks in dormitories, where the 1,001 guests will sleep
The people will live in dormitories there and have no specific duties except to wander around Kassel, although Ai has said he hopes they will not all stick together. The only stipulation is that the visitors, who began arriving Tuesday evening, cannot leave the town.
At a cost of 3.1 million euros ($4.14 million), "Fairytale" takes the prize as the most expensive project of this year's show. Documenta, which is held every five years, aims to provide a snap shot of cutting-edge developments in the art world.
Giving Westerners 'a chance to view China'
To organize the piece, Ai posted word on his blog in February that he would offer a free trip to Germany, and within three days the number of registered people had already exceeded his target.
Each applicant had to answer 99 questions, including one about their dreams. The subjects chosen to come are everyday people like Li Baoyuan, a 41-year-old farmer from a village in an impoverished region of Gansu province who has never traveled anywhere in his life.
Ai explained his exhibit in detail on the blog of Megan Shank, a Shanghai based journalist.
"The origin of 'Fairytale' is that I hoped to find a way to bring China's current social condition to Kassel, and thus allow Westerners to view a sample of modern China society," Ai said.
The 1,001 individuals whose visas have been approved will be divided into five groups that from June 12th on will leave in stages for Kassel; each group will remain there on average for eight days. During just over one month's time, quite a few Asian faces will be appearing in Kassel, a city with 250,000 residents.
'We don't know how locals will react'
"We don't know how the locals will react to this sudden "Eastern Wave," but we're interested to find out. And the city government is being very supportive," Ai told Shi Yun.
Ai noted that "Fairytale" also includes written materials, photos, and a documentary that records the entire event. He said he doesn't call the piece performance art. Rather, he sees it as a case of "art as field study."