The Tiangong 2 blasted off "in a cloud of smoke" Thursday from the Jiuquan Satellite Launch Center on the edge of the Gobi desert, state news agency Xinhua reported.
The space laboratory, whose name means "Heavenly Palace," was carried into space on top of a Long March rocket. It was set to orbit initially at a height of about 380 kilometers (240 miles) above earth; Xinhua quoted Wu Ping, deputy director of China's manned space engineering office as saying.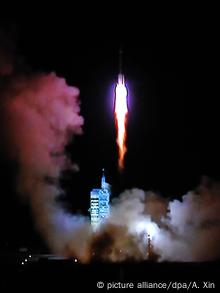 Two astronauts are expected to journey to the 'Heavenly Palace'
Two astronauts were later expected to be transported to the facility and spend 30 days there. They would carry out research projects including those relating to repairing equipment in-orbit, aerospace medicine and atomic space clocks.
Ambitious space program
China's first space lab, Tiangong 1, was launched five years ago and officially went out of service earlier this year. In 2003 China conducted its first crewed space mission, becoming the third country after Russia and the United States to do so. Since then, it has staged a space walk and landed a rover on the moon.
China is excluded from the International Space Station. However, Beijing is keen to advance its own space program, with a total of 20 missions planned this year. China intends to eventually land one of its citizens on the moon and back in April announced plans to send a rover to Mars around the year 2020.
China hopes to have a permanent crewed space station in service around 2022.
se/kl (AFP, AP, Reuters)