Billionaire conservative Sebastian Pinera won the first round of Chile's presidential election, the country's electoral agency said on Sunday, but fell short of outright victory.
He will face off against center-left Alejandro Guillier in a runoff for Chile's presidency next month.
67-year-old Pinera — who led the country from 2010 to 2014 — won 36.64 percent of ballots in the first round, while second-place Guillier, a senator and former journalist, had 22.70 percent.
"This result is very similar to the one in 2009," Pinera said. "And in 2009 we won the election, and we managed to get our country up and running."
His rival, former news anchor Alejandro Guillier, said that Chile "wants another way, and has expressed that in the vote."
Journalist Beatriz Sanchez, whose party mixes environmentalists and left-wing liberals, took third place in the presidential election with 20.27 per cent of votes. The fourth, among a total of eight candidates, was right-winger Jose Antonio Kast with 7.93 per cent.
Runoff next month
With no candidate reaching the 50 percent of votes required to win outright, the runoff election to decide who will succeed socialist leader Michelle Bachelet as president, will be held December 17.
The winner is due to take office in March next year.
Read more: Farewell to the last female president in the Americas
Still favorite is Harvard-educated billionaire Pinera, who is proposing to cut taxes on businesses to promote growth and resuscitate the flagging economy. The backbone of the Chilean economy is copper production and the country has been hurt by falling demand and lower international prices.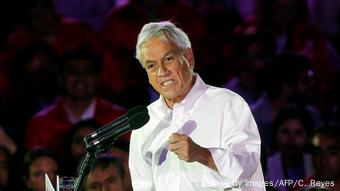 Billionaire business Sebastian Pinera is the favorite to win the election
His second-round opponent, Alejandro Guillier, is a former TV anchor who is standing as an independent with the backing of Bachelet's socialists. But five other leftist candidates have weakened his support somewhat.
Pinera comes up short
Pinera's support in the first round was less than most pollsters had predicted, indicating that next month's runoff may be a closely-fought contest.
In a poll released a month before Sunday's election, the billionaire had been forecast to secure 42 percent of votes in the first round and easily defeat Guillier in the runoff.
While investors see Pinera as a safe pair hands for the economy, his response to massive student protests seeking an education overhaul during his first term in office weakened his support.
If he can win the backing of his five left-leaning rivals from the first round, Guillier could easily overtake Pinera in round two, some analysts have predicted.
In the run-off, analysts say many voters will want reassurance that many of the gains made for students, women and workers by Bachelet's government — from expanding free education to strengthening unions — won't be undone.
Voter apathy
Election officials had feared that voter turnout on Sunday might not exceed 40 percent due to a poor showing for last year's municipal elections. Several corruption scandals have contributed to the malaise felt by many voters, analysts say.
Those fears led to the offer of free metro rides to polling stations in the capital, Santiago de Chile. Voters who were due to work on Sunday were also given two hours off to cast their ballot.
an,mm,cl/se (AP, AFP)