Oyub Titiyev was on his way to a meeting outside Grozny, the capital of Russia's Chechnya region, when he was stopped by police on Tuesday morning. When his car was searched, officers found a package with 180 grams (6.3 ounces) of a substance that "smelled specifically of marijuana," according to the police.
Sixty-year-old Titiyev, who is the head of human rights organization Memorial's Chechnya office, was immediately arrested and remains in jail.
Concerns in Russia and abroad
Titiyev's colleagues in Memorial's Moscow headquarters sounded the alarm instantly and contacted the Russian human rights commissioner Tatiana Moskalkova and Mikhail Fedotov, chairman of the Presidential Council for Civil Society and Human Rights. Fedotov called on Russian investigative authority SKR to check whether the drugs were possibly planted on Titiyev.
There is much concern internationally as well. The Council of Europe's commissioner for human rights, Nils Muiznieks, said Titiyev was "criminally prosecuted under questionable accusations." He called on Russia to release the human rights activist immediately.
A spokeswoman for Germany's government told DW that the accusations needed to be the subject of a "transparent trial in accordance with the rule of law." She added that Berlin was worried and had a close eye on the proceedings.
"We're afraid that they'll construct a trial by planting something illegal on Titiyev," Alexander Cherkasov from Memorial in Moscow said.
Russian newspaper Novaya Gazeta also wrote that the human rights activist was supposed to be accused of storing drugs in a manipulated trial.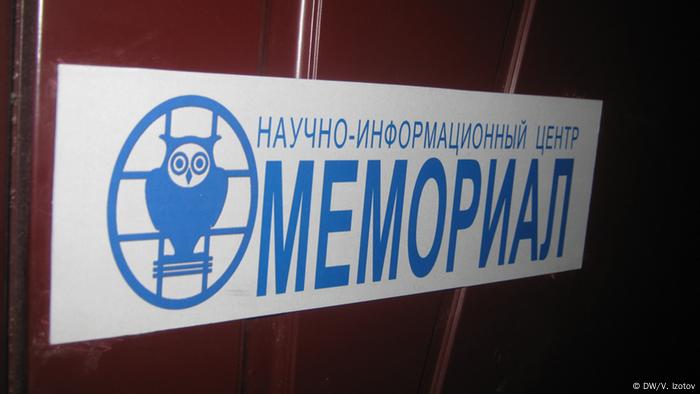 Memorial was founded in 1988
'A challenge and a method of intimidation'
Ekaterina Sokirianskaia, who supports Memorial and is the head of the Russian branch of NGO International Crisis Group, believes the accusations are "absurd and provocative." She knows Titiyev personally and is convinced that he does not have anything to do with drugs.
"That's a challenge and a method of intimidation," Sokirianskaia said.
Titiyev had taken over Memorial's Chechnya office after the previous director Natalia Estemirova was murdered in 2009. The precarious human rights situation in Chechnya frequently attracts attention from abroad, most recently when homosexuals were hunted down and murdered in the region in 2017.
Memorial is likely the last influential human rights organization to remain active in the northern Caucasus region despite mounting pressure. Another NGO, the Committee Against Torture, scaled back its engagement in Chechnya in 2015 after repeated attacks, including an arson attack on its office.
US sanctions against Chechnya's leader
Human rights activist Sokirianskaia thinks that recent US sanctions against Ramzan Kadyrov, the leader of the Chechen Republic, are one reason for the trial against Titiyev. Human rights activists accuse Kadyrov of running a brutal and arbitrary regime.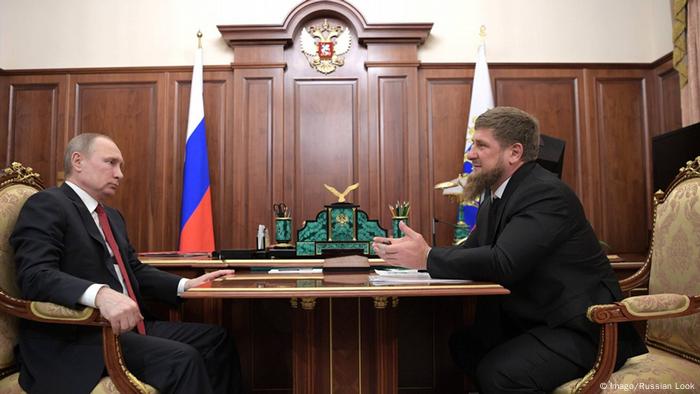 Kadyrov (right) has powerful supporters
The US Treasury announced in December 2017 that Kadyrov had been put on the so-called "Magnitsky List." The Magnitsky Act is a US law from 2012, named after Russian lawyer Sergei Magnitsky, who fought against corruption and died in detention while awaiting trial in 2009.
The US government puts Russian politicians and state officials on the list who are allegedly responsible for human rights violations. Their bank accounts are frozen and they are not allowed to travel to the US.
Revenge for blocked Instagram account?
Another consequence of the most recent US sanctions: Kadyrov's Facebook and Instagram accounts have been blocked. Sokirianskaia believes this to be a harsh loss for Chechnya's leader, who shared photos with his more than 3 million followers on Instagram every day.
Kadyrov also used social media to intimidate his opponents. In early 2016, he shared a video on Instagram that showed two Russian opposition politicians through a rifle's sights.
Sokirianskaia believes that Kadyrov has recently become more powerful and that people like Titiyev are a source of irritation for him.