Born in Paris on January 17, 1944, the chanson singer Francoise Madeleine Hardy emerged as France's biggest female pop star during the 60s and 70s. Her list of admirers included the Beatles, Salvador Dali, Mick Jagger, David Bowie and Bob Dylan. The latter even wrote a song for her.
Francoise wrote her first lyrics in her early teens and started contacting record labels. By the end of 1961 she found the right match. A label called Vogue was looking for a teenage girl to turn into a star. With her melancholy glance and sultry voice, the Parisian was an ideal candidate.
In 1962, she debuted with "Tous les garcons et les filles" (All the Boys and Girls) on French television, and the song became the anthem of a generation. It landed at the top spot in the French charts and became a hit throughout Europe.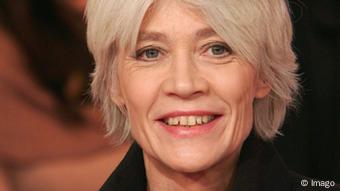 Still active in the music business at 70: Francoise Hardy
Global demand
And many more hits followed. The young artist with a talent for languages recorded tunes in English, Italian, Spanish and German. In 1963, Hardy reached fifth place representing Monaco at the Grand Prix d'Eurovision de la Chanson, better known simply as the Eurovision Song Contest. She got offers to appear in films, including from director Jean-Luc Godard, and modeling contracts soon followed. The French star toured beyond Europe in Canada, South Africa and Australia.
But fame had a dark side for Hardy, who suffered from stage fright. By the 70s, she appeared infrequently on stage however her reluctance to perform did little to damage her popularity among fans.
In 2000, she enjoyed a sensational comeback with the album "Clair-Obscur," and "L'amour fou," released to celebrate 50 years on stage, also drew an outstanding critical response. She has lived a scandal-free life together with her equally famous musical colleague Jacques Dutronc since the late 1960s.
She modestly asks not to be referred to as a star, saying, "I have the feeling that you're talking about another person."
suc/jb/gsw (laut, dailymail)