He cuts an iconic figure with his mane of unkempt hair and impossibly lined face. He's been a key figure in the music business for more than half a century and is one half of one of rock's most successful writing partnerships. Rolling Stone magazine credits him for creating "rock's greatest single body of riffs."
Keith Richards was born in Dartford, Kent in 1943. His mother bought him his first guitar when he was a child and he was inspired by the music of Louis Armstrong and Duke Ellington.
While attending Dartford Technical High School for Boys, he was recruited to the school choir where he sang soprano and even performed for Queen Elizabeth II at Westminster Abbey. But despite these angelic beginnings, Richards developed a rebellious streak, preferring the music of Chuck Berry. He was ultimately expelled from school for truancy.
The road to fame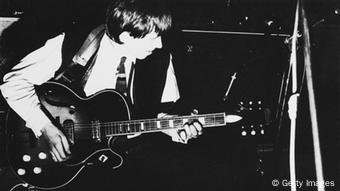 A young Keith Richards in 1964
Previously neighbors during childhood, Richards became reacquainted with Mick Jagger on a train in 1960 and soon joined his amateur covers band, Little Boy Blue and the Blue Boys. This band subsequently merged with Blues Incorporated, featuring Brian Jones and by 1962, it had turned into the Rolling Stones.
Twenty-five studio albums later and with record sales estimated to be in excess of 250 million, the Stones are generally regarded as one of the most influential bands ever, while albums like "Sticky Fingers," "Beggars Banquet" and "Exile on Main Street" are regarded as some of rock's all-time greatest.
Keith Richards and Mick Jagger formed a writing partnership which produced the bulk of the Stones' catalogue and has been as highly-regarded as that of John Lennon and Paul McCartney.
Unique style
Richards has sung backing vocals on all the Stones' albums and occasionally takes on lead vocal duties during live shows. But he is best known as a guitarist. Richards himself modestly described his job as "oiling the machinery." But former bandmate Bill Wyman said of him that while most musicians follow the drummer, "there was no way of not following his lead."
While he has co-penned many Stones classics, and was inducted into the Songwriters Hall of Fame in 1993, Richards himself has stated that playing has always been a more satisfying creative expression than songwriting.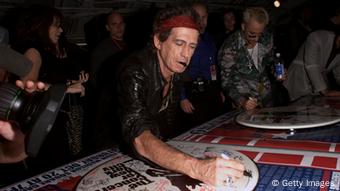 Signing autographs for fans in 2001
Eschewing flashy virtuosity, his guitar-playing focuses instead on solid chords and rhythms. Despite taking to the stage over the years with iconic guitars like the Fender Stratocaster and Gibson Les Paul, Richards regards the acoustic guitar as the basis for playing and has laid down guitar tracks for several Stones songs with the instrument. The tracks are then re-amped through a speaker during studio production.
In terms of his many accolades, Richards was ranked number 4 on Time magazine's list of the Best Guitar Players of All Time, while a staggering 14 of his compositions written together with Mick Jagger are among Rolling Stone magazine's 500 Greatest Songs of All Time.