The smiles will be diplomatic and the handshakes firm, but there is likely to be no love lost between Angela Merkel and the Kaczynski twins when the German chancellor arrives in Poland for a two-day visit on Friday.
While it is widely assumed that relations between Germany and Poland are at an all time low, experts in German-Polish affairs say that the atmosphere between the two nations has in fact rarely been better since 1989. However, continuing diplomatic spats have added to the impression of two countries with a simmering animosity for each other.
The latest incident, arising from comments made on Wednesday by the Polish official employed to improve bilateral ties, is likely to make Merkel's meeting with President Lech Kaczynski and his brother Jaroslaw, the prime minister, in Warsaw even more strained.
As Merkel was preparing to leave for Poland, Mariusz Muszynski, the new representative for Polish-German relations, accused Germany of egotism, selfishness and of having any knowledge of his country which he described as "a victim of war and aggression."
In an interview with the Berliner Zeitung newspaper, Muszynski criticized Germany of looking after its own national interests instead of working to resolve areas of conflict with Poland. He added that Poland could not be blamed for its own unfriendly posture towards Germany when the Germans were so unwilling to cooperate.
So why do the Germans and Poles continue to snipe at each other? There are, of course, still many important issues to resolve from their long and painful shared history, but in a contemporary context, many of the arguments seem petty.
Germany and Poland suffering a crisis of trust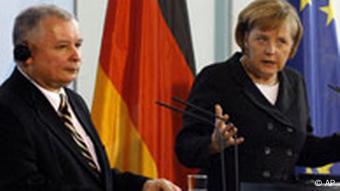 A lack of mutual trust and understanding causes problems
"The two countries are suffering a mutual trust crisis," Kai-Olaf Lang from the German Institute for International and Security Affairs told DW-WORLD.DE. "Germany was Poland's most important ally during the 90s, when Poland achieved its main goals of EU-NATO membership. Now there is the question of what happens next, what are the common challenges and projects. There is also the problem of lack of mutual knowledge between the countries which has led to misunderstandings."
"The Germans are just fed up of being the paymasters of Europe," Ann Kennard, an expert in German-Polish relations at the University of West England, said. "They have been the most single-minded of the large European states in trying to achieve meaningful European integration, and now that Poland is a member, they probably feel they don't have to have quite such a 'kid-gloves' approach."
From an outside perspective, it must look as if Germany and Poland are intent on fuelling the fires of animosity between them whenever possible and taking every opportunity to scupper potential breakthroughs when an opportunity for negotiation arises. But Kennard believes neither side has anything to gain by prolonging this current period of antagonism.
Few benefits from continued animosity
"I do not see any benefits from keeping these animosities going, in fact, it's quite the opposite," she said. "As the largest of the most recent members to join the EU, Poland feels it can be open and outspoken, but there is no future in antagonizing its closest neighbor and biggest trade partner.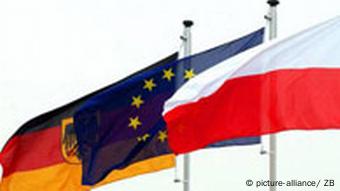 Germany was Poland's biggest EU supporter
"Equally, Germany has nothing to gain from allowing expellee groups to make the headlines on property issues so many years after treaties were signed accepting the postwar borders between them"
While there may not be anything either country can gain from prolonging the disputes that separate them, new problems continually arise. While the Poles have become adept at making inflammatory statements when the Germans appear at their most conciliatory, Germany has timed policy changes and gestures to create maximum embarrassment and outrage in Poland.
Responsibility, not blame, the issue
"When it comes to the issue of a strained relationship," said Stephen Bastos from the German Council on Foreign Relations (DGAP), "there is seldom just one side to blame. Therefore it is a wrong impression in Germany right now that it is all about the crazy twins in Warsaw. (Former Chancellor) Schröder's flirtation with the traditional Paris-Berlin-Moscow power axis left Poland in the cold and his dealings in the Baltic oil pipeline didn't help. And the project to commemorate the fate of about 12 million expelled Germans after World War II certainly irritated Poland."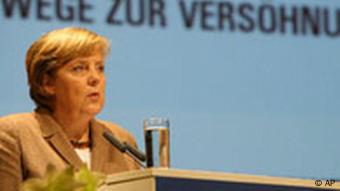 "60 Years of Expulsion" didn't go down well in Poland
"This, however, doesn't change the fact that the Polish government holds the largest part of the responsibility for the actual mess we are facing at the moment," Bastos added. "The twins based their election campaigns on anti-German resentments and insecurities towards Germany and they keep on using bilateral issues in general and historical questions in particular for domestic goals. In fact, they don't have a European or foreign policy agenda. Foreign policy is just one tool for domestic power games. But there are small signs of some learning processes in Warsaw."

So is there hope that one day Germany and Poland can resolve their differences and stop the pendulum of animosity swinging between them?
European cooperation can help heal wounds
"In my view, relations between the two countries since 1989 have been exemplary and, until recently, they have both looked forward and have taken a practical and pragmatic view of their future together in the new Europe," Ann Kennard said. "It is actually quite surprising that relations have been as good as they have, one would have expected a much more problematic and difficult relationship considering their shared history."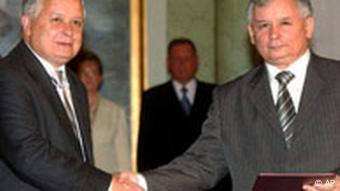 Foreign pain for domestic gain? The brothers Kaczynski
"It also needs to be emphasized that relations in the population at large, business and cultural contacts, etc. are generally fine, and should not be obscured by high profile squabbles between the two governments. I believe something has to give sooner rather than later and I hope it will."
Kai-Olaf Lang believes that cooperation on European agendas can help heal the wounds.

"Mistrust can be diminished by closer collaboration," he said. "By utilizing both countries' expertise in the European challenges we currently face, both nations can display their worth both separately and together, for their own benefit and Europe's. There just needs more understanding in Germany about Polish motivations and fears and more openness and pragmatism from Poland."