KAA Gent 2-3 Wolfsburg
(Kums 80', Coulibaly 89' - Draxler 44', 54', Kruse 60')
In the group stage of the Champions League, Wolfsburg, this season, had appeared immune to the inconsistency that has plagued them in the Bundesliga. However, this wasn't the case during the first leg of their round-of-16 tie in Gent on Wednesday night. While they were in firm control through most of the match, a late burst from KAA Gent took the shine off Wolfsburg's victory, as they allowed a three-goal advantage to be reduced to one.
Wolfsburg were on the attack from the opening whistle, with both Max Kruse and Julian Draxler making vertical runs to try to open up the opposing three-man defense. Hein Vanhaezebrouck had his Belgian side well organized though, and Wolfsburg were often outnumbered in the penalty area when Vieirinha and Ricardo Rodriguez put crosses into the area.
Wolfsburg kept firing shots - many of which went off target, trying to find an opener. Draxler's skill on the ball finally gave Wolfsburg the opening they were after, turning past two Gent players to begin the attacking move. The 23-year-old then combined with Vieirinha, pulling Mitrovic out of position and freeing up space in the penalty area. Draxler finished off the chance to give Wolfsburg a 1-0 halftime lead.
Draxler sucked the wind out the Gent crowd with his second, capitalizing on a passing mistake from Renato Neto, nine minutes after the restart. The Wolfsburg forward sent the ball through the legs of Mitrovic and chipped it over Matz Sels into the back of the net. Chances started to come easier for Wolfsburg as Gent's spirits looked shaken. Not long after Draxler's brace was complete, Christian Träsch picked out Max Kruse at the near post to give Wolfsburg a resounding 3-0 lead.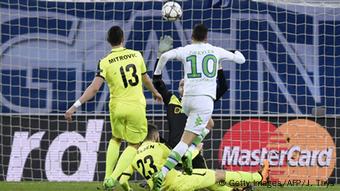 Julian Draxler proved to be the difference as Wolfsburg let a big lead slip away
A breath of late life for Gent
Needing a fresh look, Gent coach Hein Vanhaezebrouck replaced all three of his attacking players. The changes injected new energy into the home side as their runs forward started to look more menacing. Right when Wolfsburg clicked their intensity down a notch, Sven Kums sliced a right-footed shot past a diving Koen Casteels to put Gent on the scoreboard 10 minutes from time.
With the crowd at their back once more, Gent charged on. Thomas Foket and Brecht Dejaegere forced Koen Casteels into two uncomfortable saves as Wolfsburg's defense began to crumble. With Gent throwing numbers forward, they inched even closer towards completing a comeback as Kalifa Coulibaly headed in a lob from Kenny Saief in the 89th minute.
Wolfsburg wound up leaving Gent with the victory, but what would have been a comfortable lead in the aggregate score slipped through their fingers. Although Gent will still need to win by two goals to come back in the tie, Wolfsburg put themselves under even more pressure to compensate for their Bundesliga inconsistencies by earning their first Champions League quarterfinal appearance.
In the other last-16 fixture on Wednesday, Real Madrid took a big step towards the quarterfinals with a 2-0 win over Roma in the Italian capital. Cristiano Ronaldo opened the scoring 12 minutes into the second half with a fantastic solo effort, before Jese added a second with four minutes to play to secure a two-goal lead heading to the second leg in Madrid.
As it happened: Gent vs. Wolfsburg