Paris Saint-Germain 2-1 Chelsea
(Ibrahimovic 39', Cavani 78' - Mikel 45+1')
Paris Saint-Germain needed a heroic 10-man extra time effort in order to top Chelsea a year ago, but they started their rematch with the London-based club on the right foot. It was two right-footed goals that did the job, Zlatan Ibrahimovic and Edinson Cavani both finding the back of the net as the Parisians won their first Champions League knockout stage match since April, 2014.
Laurent Blanc's men came flying out of the gate as Chelsea's makeshift defense tried to get organized. PSG were only able to get off one clear-cut chance though in the early going, Marco Verratti testing Chelsea's goalkeeper Thibaut Courtois early with a long-range effort. Diego Costa nearly provided Chelsea with a goal against the run of play, but Kevin Trapp pushed his header off the crossbar to deny the Spanish international the opening.
Though these two clubs are in completely separate stratospheres in their respective league standings, they were evenly matched on the pitch. Ibrahimovic finally gave PSG their well-deserved breakthrough, tapping a free kick off of John Obi Mikel to give the French champions a 1-0 lead. Mikel would have redemption though, volleying a loose corner kick to equalize just before the halftime whistle.
The match remained even into the second half, but eventually PSG's pressure proved to be too great. With a quarter of an hour to go, Blanc brought on Edinson Cavani for Lucas to spice up the attack. After just four minutes on the field, Cavani whirled around the Chelsea defense, received the ball from Angel Di Maria and finished through the legs of Courtois.
PSG will now travel to London with a 2-1 lead, but will hope to do a better job defending that lead than they did in the Champions League quarterfinals two years ago. With a 3-1 lead, Chelsea scored two unanswered goals to advance to the 2013/14 semifinals.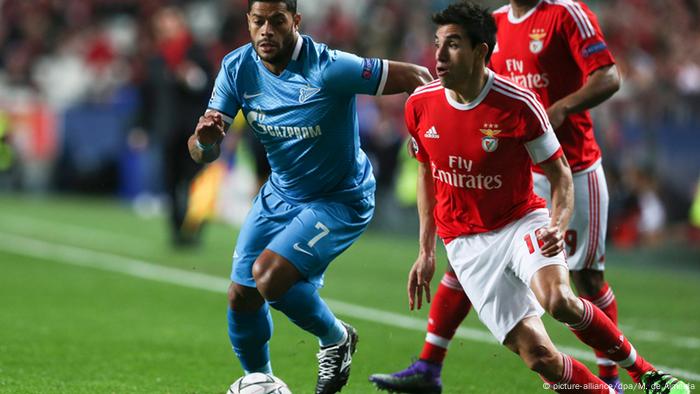 Nico Gaitan and Benfica return to the Champions League knockouts in style
SL Benfica (1-0) Zenit St. Petersburg
(Jonas 90+1')
Benfica may have missed out on the last few Champions League knockout stages, but they did not skip a beat in their match against Zenit St. Petersburg. Though the match remained scoreless until the final minutes, Benfica were in full control as they dominated possession. Artiem Dzyuba and Hulk, who scored a combined nine goals in the group stage for Zenit, could not impact the game – Hulk was the only one to get a couple of shots off, and one of them was from a free kick.
Nico Gaitan was an absolute menace on the other end for Benfica, driving the Liga NOS champions forward. He nearly found the opener himself, taking a headed down ball from Jonas past former teammate Eziquiel Garay and firing a shot from point-blank range off the gloves of Zenit goalkeeper Yuri Lodygin.
Zenit's defense received a crippling blow late, Domenico Criscito receiving a second yellow card for a challenge on Andre Almeida. Gaitan found the head of Jonas on the ensuing free kick, and Jonas finally snuck a goal past Lodygin to give Benfica the first leg victory. Benfica now take a narrow 1-0 lead to Russia as they try to reach their fourth ever Champions League quarterfinal.