Just before half-time against Bordeaux on Saturday, Edinson Cavani had the chance to put Paris Saint-Germain ahead from the spot. He made no mistake, smashing the ball to the goalkeeper's left. He hit it hard. Too hard, subsequently pulling up holding his thigh.
"We'll have to go for Plan D in Manchester," grinned head coach Thomas Tuchel - but he was only half joking.
Cavani is just the latest name on the Parisian treatment table, joining defender Thomas Meunier (concussion) and Neymar (metatarsal) on the list of high-profile names set to miss PSG's Champions League last-16 first leg away at resurgent Manchester United on Tuesday.
But Tuchel is no stranger to unfavorable circumstances in Champions League knock-out rounds. The last time he coached a team at this level, his preparations were disrupted by more than mere football injuries.
On April 11, 2017, one-and-a-half hours before Borussia Dortmund's last-16 first leg tie against Monaco, the team bus was rocked by three explosions which sent shards of metal hurtling through the windows, injuring defender Marc Bartra and one policeman. The explosives had been planted by Sergei W., who had hoped to profit from a subsequent drop in the value of BVB shares on the stock market and who was sentenced to 14 years in jail in November 2018.
After speaking to BVB officials, including CEO Hans-Joachim Watzke, UEFA postponed the match for 22 hours, much to the dismay of Tuchel who, having been on board the bus himself, insisted that his team was in no frame of mind to play at such short notice.
"It was not a nice feeling. It was a feeling of powerlessness," Tuchel said after the first-leg defeat. "We are given the dates and we have to make it work. We had the feeling we were being treated as if the bus had only been hit by a can of beer."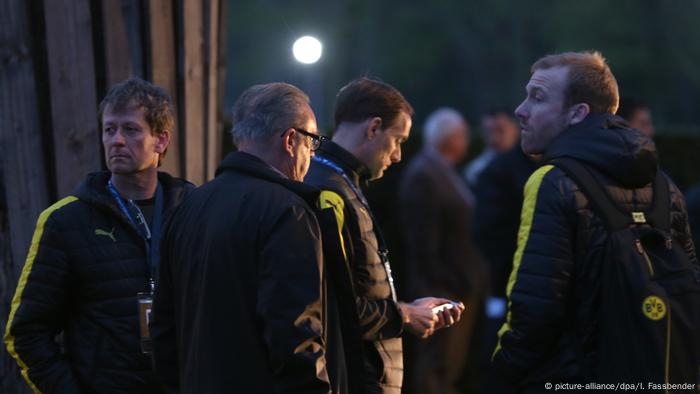 Thomas Tuchel studies his mobile phone immediately after the attack on the Dortmund team bus
Dortmund were eliminated over the course of the two legs (2-3, 1-3) but the handling of the incident severed the relationship between Tuchel and Watzke, the former claiming at a court hearing in March 2018 that he would still be in charge of the Bundesliga side were it not for the attack.
Tuchel, whose meticulous tactical demands and impatient man-management had previously caused some disillusionment within the Dortmund dressing room, ultimately emerged from the entire affair with a certain degree of credit after publicly standing up for his players.
His position represented a stark departure from the hardline taskmaster who had labeled his team "technically, tactically and mentally deficient" following a 2-1 defeat to Eintracht Frankfurt six months earlier, a game in which a frustrated Tuchel made a triple substitution just before the hour mark.
"Tuchel brings a Germanic rigor but in his personal dealings with the players, I have the impression that he is more Latin than German," former PSG coach Laurent Blanc told French daily Le Parisien, hinting at a change in character since Tuchel's Bundesliga days.
Now, PSG are hoping he can change their fortunes when it comes to Europe's grand prize. After three consecutive eliminations under Blanc, PSG were on the wrong end of the largest comeback in Champions League history against Barcelona in 2017. It was a humiliation for which they were derided by an unsympathetic French media, reveling in the shortcomings of a team made up of expensive superstars.
The frequent references to the historic "remontada" (Spanish for comeback) were allegedly one of the reasons for which two journalists from L'Equipe were banned from PSG press conferences in December.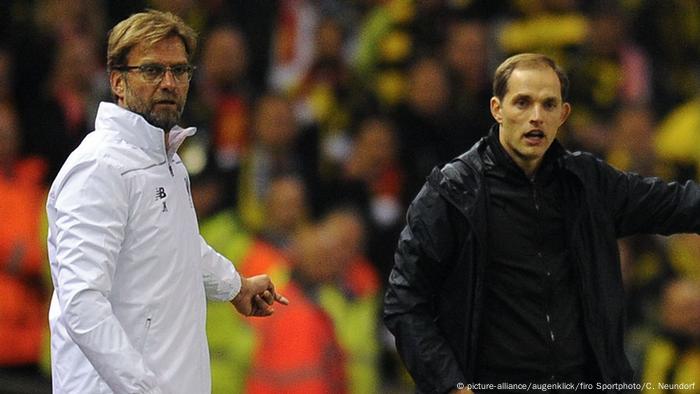 Jürgen Klopp's Liverpool stunned Thomas Tuchel's Borussia Dortmund in 2016
Tuchel, in his relatively short European coaching career, has already been on the wrong end of a "remontada" of his own. In 2016, his Borussia Dortmund side threw away a 4-2 aggregate lead in the final half hour of their Europa League quarterfinal against Liverpool, coached by his BVB predecessor Jürgen Klopp.
Now, the 45-year-old is tasked with finally bringing European glory to Paris and satisfying the demands of the club's Qatari owners.
"[Tuchel] is confronted with the same problem that we had in the Champions League," said Blanc, recalling the three elmininations he oversaw as coach. "Given that Paris doesn't have as much experience as the others, there's little margin for error if they don't have a full squad."
French midfielder Adrien Rabiot is also doubtful after being banished to the reserves by sporting director Antero Henrique after refusing a contract extension, although Tuchel has included him in his squad to face United. "At the moment, his stupidity is taking precedent over his talent," said Blanc of the 23-year-old. "He needs to grow up."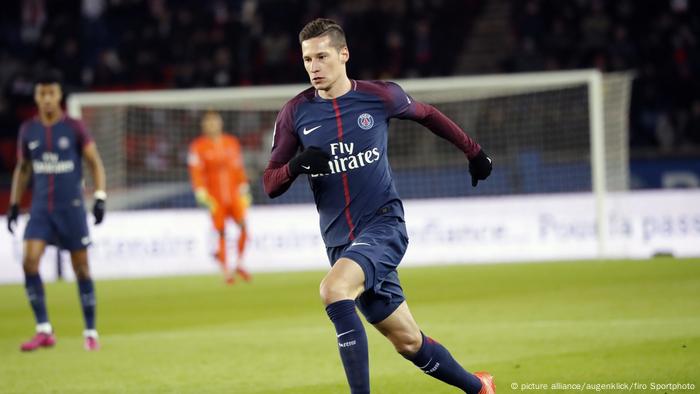 Julian Draxler has beaten Manchester United before and could get his chance again
PSG's absentees could play into the hands of two of Tuchel's compatriots. Defender Thilo Kehrer, signed from Schalke for €37m ($42m), has nailed down the center-back position while Julian Draxler, who was part of the Wolfsburg side which condemned Manchester United to a humiliating group-stage exit in 2015, now also looks likely to start.
After frequent disappointments, PSG are desperate to establish themselves at Europe's top table. The 3,500 travelling Parisians in Manchester on Tuesday will be hoping that Tuchel has learned enough from his own experiences to deliver that, even if he does have to revert to Plan D.