A Spanish Supreme Court judge on Monday upheld the jailing of former Catalan Vice President Oriol Junqueras and former regional interior minister Joaquim Forn, as well as the leaders of two Catalan grassroots separatist groups.
Supreme Court Judge Pablo Llarena, however, did allow six other ex-cabinet ministers from the deposed Catalan regional parliament to be released on bail, which was set at €100,000 ($118,000).
Read more: Pro-independence Catalans rally for jailed leaders in Barcelona
The decision comes after the detained group separatist independence lawmakers pledged on Friday to renounce all separatist efforts during a series of closed-door meetings with Llarena in Madrid.
In a statement by the Supreme Court, Llarena said it remained to be seen if their pledges to abide by Spanish law and renounce unilateral independence for Catalonia were "truthful and real." This, he added, raised the "possibility that acts could happen again with serious, immediate and irreparable consequences for the community."
All 10 face possible charges of rebellion, sedition and embezzlement for their role in Catalonia's contested drive for independence. If found guilty, they face a maximum sentence of up to 30 years in prison.
Of the six that were released, most intend to run in the upcoming regional election on December 21, which was called by Spanish central authorities after they took control of Catalonia's regional parliament. Junqueras had also intended to participate, though doing so would now appear to be impossible.
Revisiting National Court decision
Until last week, the lower National Court, which usually takes on major criminal charges, had been in charge of the case and had even already sent to jail Junqueras, his former ministers and the two leaders of the pro-independence ANC and Omnium Cultural associations.
However, in a separate investigation against five Catalan parliamentarians, including former speaker Carme Forcadell, Llarena decided they could remain free on bail as the probe continues. With the Supreme Court judge now having taken on the probe against Junqueras and his group of ministers, there was initially great hope among the pro-independence movement that all would be granted bail.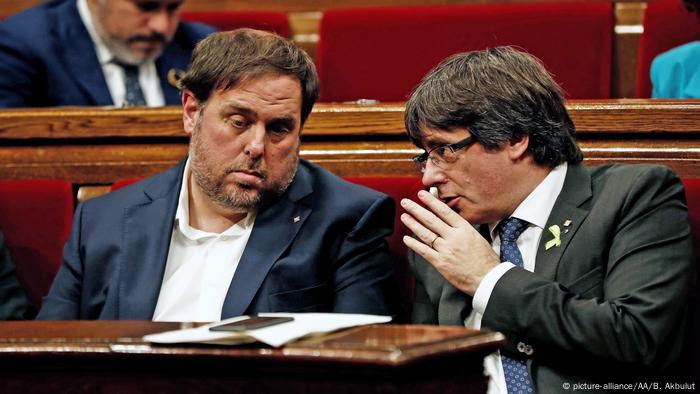 Oriol Junqueras und Carles Puigdemont were coalition partners in the previous Catalan government.
Puigdemont facing extradition hearings
Also on Monday, Carles Puigdemont, Catalonia's deposed president, was set to appear in a Brussels court for extradition hearings.
Puigdemont and four other separatist leaders fled to Brussels from Spain, where they too face charges of sedition and rebellion for illegally declaring unilateral independence for Catalonia from Spain. The former Catalan leader claims he would not receive a fair trial back home.
A decision on the extradition is expected within eight to 10 days.
Read more: Puigdemont shows face at Brussels rally
Despite choosing to remain in exile, Puigdemont has said he intends to lead his PDeCAT party in the upcoming regional elections.
It remains unclear how he intends to achieve this, nor how the separatist movement would proceed should the parties win the election.
In September 2015, the two separatist parties — Puigdemont's conservative PDeCAT and Junqueras' left-wing ERC — agreed to form a coalition. Despite their common interests, it appears unlikely that the two parties would join forces again, following the massive political tensions both parties stirred by pushing ahead with the independence referendum.
dm/ng (AFP, Reuters, dpa)