After the deadly bird flu was found to have killed a cat on the German Baltic Sea island of Rügen, where the virus was first detected in the country, consumer protection agency officials said cats must be kept indoors, and dogs on leashes.
The government said the order would take effect immediately in a radius of three kilometers (1.8 miles) of all areas where infected wild birds have been found.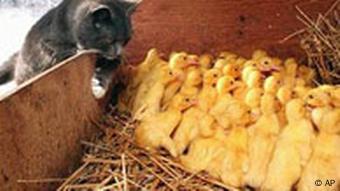 When outdoors, cats may look for birds
So far, the flu has been found in Bavaria, Baden-Württemberg, Brandenburg, Schleswig-Holstein, and Mecklenburg-Western Pomerania.
Crisis team meeting
The cat, which authorities said was a stray, was found on the Baltic Sea island of Rügen, where the deadly H5N1 was detected in birds earlier this month. It was the first case in Germany of the bird flu being transmitted to a mammal.
Meanwhile, a government crisis team continued to meet in Berlin, to discuss measures against the deadliest form of the virus.
WHO: 'No increased human threat'
The cat grabbed the headlines in several countries in Europe, but the World Health Organization (WHO) in Geneva said it did not increase the threat to human health from the virus. Since late 2003, 93 people have died from bird flu, but they have contracted the virus from contact with infected birds.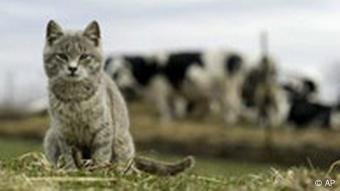 The dead cat on Rügen was said to be a stray
"There is no present evidence that domestic cats play a role in the transmission cycle of H5N1 viruses. To date, no human case has been linked to exposure to a diseased cat," it said. "Unlike the case in domestic and wild birds, there is no evidence that domestic cats are a reservoir of the virus."
Bird flu has killed or led to the culling of some 200 million birds since it re-emerged in Asia in late 2003. The real fear for human health is that the virus will mutate into a form that passes easily from person to person, sparking a pandemic in which millions could die.
Representatives of German state and local governments today agreed in a telephone conference to examine dead mammals found in areas already known to contain the H5N1 virus, or those where deaths seem suspicious.
Bird lockdown could drag on
But they recommended against vaccinating house cats, saying it was not target-oriented enough, since there is no appropriate vaccination.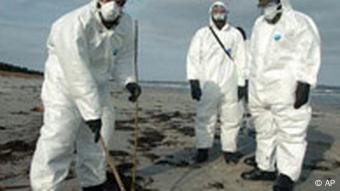 Soldiers in protective clothing combed the island of Rügen for dead fowl
Meanwhile, Germany's agriculture ministry has said Germany may be forced to keep domesticated birds enclosed through April.
"We may have no choice, if the flu keeps raging beyond the migration period," said Agriculture Secretary Gert Lindemann, who is heading up the task force that met in Berlin Wednesday.
Animal supporters warn of panic
The German Animal Protection League warned of an unnecessary panic outbreak. Cats do not need to be kept indoors Germany-wide, they said in a statement, but in areas where the bird flu has already been found, owners should keep close watch over their animals.