Former German Constitutional Court judge Christine Hohmann-Dennhardt is to join carmaker Daimler as its first-ever female board member.
Hohmann-Dennhardt is to become the company's integrity officer, a post that was created last September after the company pleaded guilty to bribery charges in the United States.
In a statement issued Tuesday, Daimler said it was appointing the 60-year-old - who has also served as a regional minister in the state of Hesse - for her "personal integrity" and "outstanding competence."
As well as being responsible for legal issues, Hohmann-Dennhardt will oversee the company's business ethics.
Debate over compulsory woman quotas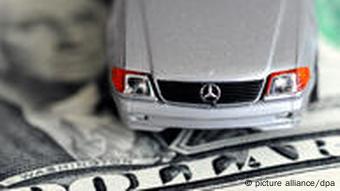 The company was investigated over its global sales practices
The appointment comes amid a debate about the low number of women serving on boards of top German companies.
German Family Minister Kristina Schröder has warned companies that they must dramatically improve the situation by 2013 or risk the introduction of compulsory quotas.
Last April, Daimler agreed to pay $185 million (135 million euros) to settle US charges following an investigation into the company's global sales practices.
The car manufacturer admitted that, between 1998 and 2008, hundreds of improper payments had been made to government officials in at least 22 countries.
Author: Richard Connor (AFP, AP)
Editor: Martin Kuebler