Canada's Health Minister UN considers shift in illicit drug policiesJane Philpott told the UN General Assembly that the Ottawa government will introduce legislation to legalize marijuana in the spring of 2017.
The minister said the government will ensure the drug is kept away from children, and will address the devastating consequences of drugs and drug-related crimes.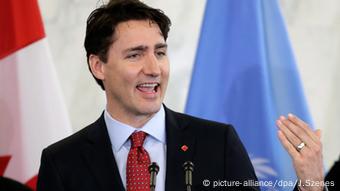 Canadian Prime Minister Justin Trudeau
"We will work with law enforcement partners to encourage appropriate and proportionate criminal justice measures," she said. "We know it is impossible to arrest our way out of this problem."
Canadian Prime Minister Justin Trudeau promised during last year's election campaign that his Liberal Party would legalize recreational marijuana, following the lead of several US states.
Current laws banning marijuana remain in effect, but illegal dispensaries have mushroomed since the Liberals came to power, according to Bill Blair, Toronto's former police chief and the government's point man on legalization.
Conservatives oppose legalization
But not everybody in Canada supports legalizing cannabis. Conservative legislator Gerard Deltell, a legislator from Canada's leading opposition party, said legalizing marijuana would damage people's health and cause life-long problems for users.
"That's one of the worst things you can do to Canadian youth - to open the door to marijuana. ... It's wrong, all wrong," he told reporters in Ottawa.
Four US states - Colorado, Washington, Oregon and Alaska - and the District of Columbia have legalized recreational marijuana use. Several other states, including California and Massachusetts, are considering ballot initiatives for November.
A dozen other states have decriminalized the possession of small amounts and legalized marijuana for medical purposes. Likewise, medical marijuana is already legal in Canada.
Canada's medical marijuana growers complain that the rise in illegal marijuana dispensaries is costing them customers.
bik/jil (Reuters, AP)