With as many as 250 displaced people crossing into Canada from the United States every day - up from 50 just two weeks ago - Canadian soldiers are to help build a temporary camp for 500 asylum seekers who cross the remote Roxham Road border point in northern New York state and southern Quebec.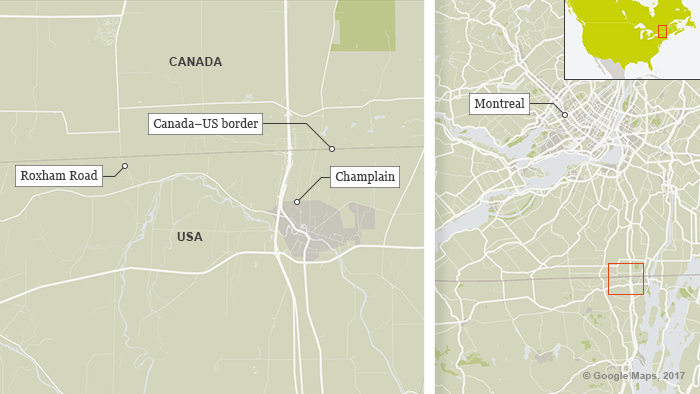 The military said the soldiers would help the Royal Canadian Mounted Police and the Canada
Border Services Agency at the site but would not be involved in security operations. The soldiers will also install lighting and heating equipment.
Canadian police have already set up a reception center in the Quebec community of Saint-Bernard-de-Lacolle, about 30 miles (50 kilometers) south of Montreal, which is 300 miles (480 kilometers) over the border north of New York City.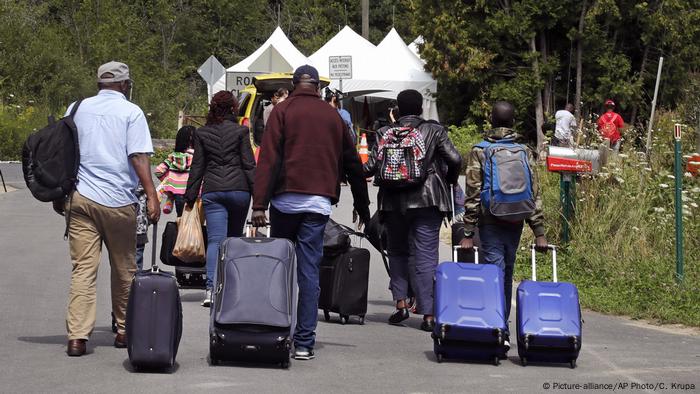 A family from Haiti approach a tent in Saint-Bernard-de-Lacolle
Safe Country Agreement
Despite the apparent goodwill effort, the Immigration Ministry has published a Facebook post discouraging unauthorized crossings and is attempting to put an end to rumors that Canada has invited displaced people to seek refuge.
Under the 2002 Safe Country Agreement between the United States and Canada, migrants seeking asylum must apply in their country of arrival. But if migrants arrive in Canada at a location other than a port of entry, such as Roxham Road, they are allowed to request refugee status there.
About 50,000 Haitians had sought refuge in the United States following a massive earthquake in 2010. Many of them now face deportation.
Read more: Haitian 'climate refugees' hit dead end at US border
Canada's government has ended its own temporary refugee program for displaced Haitians.
Authorities accepted 50.5 percent of the 410 refugee claims by Haitians heard in 2016, government data show.
No guaranteed refuge
From January 1 to June 30, the Royal Canadian Mounted Police - the agency responsible for securing borders between legal crossings - has intercepted 4,345 displaced people, according to statistics provided by the federal government. More than 3,350 people crossed into the province of Quebec, while 646 crossed into Manitoba and 332 people crossed into British Columbia.
The Trump administration's targeting of displaced people in the United States has led thousands to such unofficial crossings, such as Roxham Road. Trump plans to cut legal immigration by 50 percent over the next 10 years.
Quebec's provincial authorities have announced that they plan to turn the city's shuttered Royal Victoria Hospital into a shelter that will house about 320 people. Last week, municipal authorities in Montreal had to create a temporary shelter at the city's Olympic Stadium to accommodate hundreds more.
To qualify for political asylum, applicants must prove that they cannot return to their countries of origin "because of a well-founded fear of persecution," "risk to their life, or risk of cruel and unusual treatment or punishment," according to Immigration and Citizenship Canada. Canada appears on track to receive the most asylum claims in almost a decade.
mkg/cmk (Reuters, dpa)