Cambodia's Supreme Court denied bail to the country's leading opposition figure, saying his release would threaten national security.
Kem Sokha, above, is facing treason charges after he was arrested September 3 on charges he conspired with the Untied States to bring down the government of the authoritarian Prime Minister Hun Sen.
As tensions with Washington rise, Cambodia has ordered US Peace Corp volunteers to leave the country.
Critics say the charge is politically motivated and both Sokha and the US Embassy in Phnom Penh dismissed the accusations as completely false. Sen could be facing the biggest political challenge of his career with elections looming in 2018. Sokha's arrest appears to be part of a broader attempt to dismantle all political opposition ahead of next year's vote.
The government is also pushing to dissolve the Cambodia National Rescue Party (CNRP), which Sokha heads. It is the only opposition party with seats in parliament. The high court is due to begin hearing that legal challenge on November 16.
Sokha was not allowed to attend Tuesday's court hearing and his lawyer Hem Socheat told the court, "The hearing seems fake."
Only a handful of journalists, UN officials and Swedish Embassy staff attended the court proceeding. The broader public was also locked out.
Strategy or treason
So far the only evidence presented against Sokha is 2013 video of a conference in which he discusses political strategy for gaining power. In it he refers to discussing it with US advisers.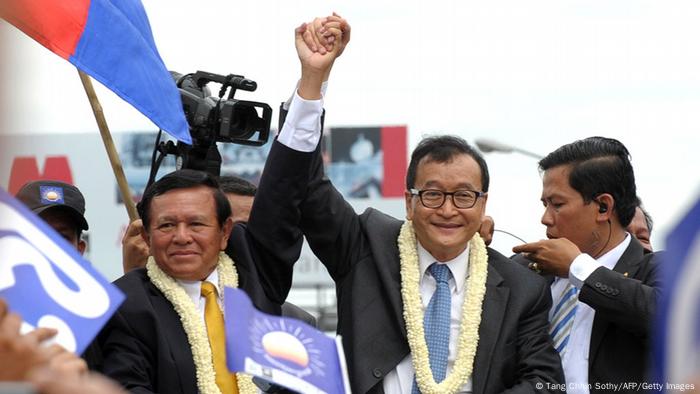 Oppposition leaders Kem Sokha and Sam Rainsy greeting supporters on the streets of Phnom Penh in 2013
Socheat, his lawyer, said Sokha's speech was about fundraising strategies and promoting democracy.
But Prime Minister Sen accused his political rival of getting help from the United States. The US Embassy in Phnom Penh has rejected all accusations that it has interfered in the country's politics.
Read more: DW Akademie backs Cambodian website
Sokha's lawyers had asked the Supreme Court to rule that his detention was illegal and said that he should be granted parliamentary immunity from prosecution.
"The detention of Kem Sokha is to prevent new crimes and so that the court can guarantee public order," Judge Khim Ponn said after nearly two hours of deliberations.
"The accused will continue to be detained."
The government is also cracking down on the free press.
Sen, who has been in power for more than 30 years, is the world's longest serving dictator.
bik/rc (AP, Reuters, dpa)