Thomas Kienbauer likens the ruling Socialist Party of Austria (SPÖ) to the Titanic in a cake decoration he displays in his café in Vienna's 18th district.
The iceberg that brings it down is tinted blue, the color of the anti-immigration Freedom Party, which dominated the first round of Sunday's presidential election. For the master confectioner, the strong showing of the Freedom Party's candidate, Norbert Hofer, was no surprise.
Austria's two main parties have turned into a "dictatorship," which Kienbauer says has ruined the country. "The refugees are only one thing. There is an unrelenting number of problems and the government has no idea what to do," he told DW.
Hofer won 35.3 percent of the vote - far more than expected - to secure the favored spot in the second round of elections on May 22. He will face Alexander Van der Bellen, 72, a former Green party head who is running as an independent. He nabbed 21 percent of the vote.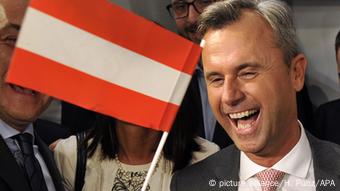 Hofer has struck a nerve with many Austrians
It was the first time since WWII that a candidate from neither of the two governing parties made it to the second round. Their candidates only managed 22 percent of the nation's support combined.
"The bad results show that they can't keep on acting as if it's business as usual," Thomas Hofer, a political consultant, told DW. "There will have to be personnel changes at the top."
Heads may need to roll
Joining a chorus of voices that included several Austrian editorial boards, Roland Plachy, a spokesman for the youth wing of the SPÖ, called on Chancellor Werner Faymann to step down.
"The results show the party doesn't have the trust of the people anymore," he said in an interview.
Christoph Neumayer, the general secretary of the Federation of Austrian Industries, stopped short of calling for personnel changes, but told public broadcaster ORF that the government needed to start making clear decisions and implement them.
Rather than stepping down, Faymann and Vice Chancellor Reinhold Mitterlehner have instead announced a new start. Mitterlehner said voters were giving the coalition "the last chance." He pledged a "content and organizational relaunch" of the government.
'Wiener Schmäh'
On the street that announcement got short shrift. "They promise a lot. Let's see if anything really happens. It's only Schmäh (hot air)," said one passerby.
But his point was taken: A relaunch might not be enough, says Thomas Hofer. Austrians want to see some heads roll.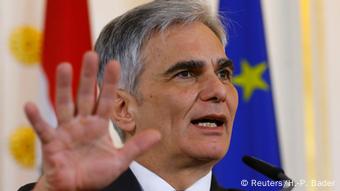 Heads could roll at the top
The decline of the established parties plays perfectly into the hands of the far right, who once again have become politically acceptable to conservative Austrians and are gaining strength across the continent.
Far-right politicians across Europe, including Italy's Northern League, Germany's Alternative for Germany and France's National Front have been quick to congratulate the Freedom Party on its strong showing.
Austria's far-right past
Should Norbert Hofer indeed become Austria's president, it would not be the first time voters have stood behind a far-right candidate. Kurt Waldheim was elected in 1986 even after his Nazi past was revealed. And the Freedom Party briefly joined a coalition government with the People's Party in 2000 despite European Union sanctions.
Although the Socialist Party has called on its supporters to vote for Van der Bellen, the other losing candidates in Sunday's elections have not. They include Irmgard Griss, the third-placed candidate, who ran a strong campaign despite little to no party support. Griss so far has remained neutral.
Austrian's do not like being pressured, Thomas Hofer says. "The shriller the protest, the more pressure you put on voters, [against a far-right candidate] the more that will help [Norbert] Hofer," he says.
Active president
Norbert Hofer has gained voter confidence because he comes across as an honest broker and because "his message was well received," the political consultant says.
Perhaps the one message that has resonated most is his pledge to take a stronger role in future government formations even though the role of the president traditionally is largely ceremonial. At one point during the campaign, Hofer promised to dissolve any government that was "endangering" the republic, although he did not elaborate.
During a debate last week he expanded on his intentions to play an active role. "You'd be surprised at everything we can do," Hofer said.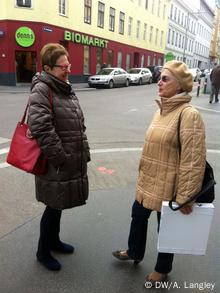 Voters like Hofer's straight-talking style
That honesty was something that appealed to Elfriede, 73, standing not far from Kienbauer's café. She said she was impressed "how far he lets his mask down. Hofer is a plain speaker."
Her friend, Maria Teresa, wasn't as certain. She supported Griss. Now, she hadn't made up her mind between Hofer or Van der Bellen, although she felt the latter should be honest about his affiliation with the Green party.
Several people said they were turned off by both candidates, neither of whom represented the centrists. Political consultant Thomas Hofer says the polarization of the electorate could well play into the hands of the Freedom Party.
"People who say 'neither/nor' could well stay at home."