German Chancellor Angela Merkel broached the delicate subjects of the United States' prison at Guantanamo Bay and Iran's nuclear program during discussions with US President George W. Bush on Friday. According to Bush, the two spent some 45 minutes along together in the White House Oval Office.
Chancellor Merkel told the assembled press at the joint press conference after the talks that Germany would not be intimidated by Iran. She added that Iran's statements on Israel and the Holocaust were "totally unacceptable."
Western countries "will not be intimidated" by Iran's decision to go ahead with its nuclear program, Merkel said Friday at a press conference with US President George W. Bush.

"It's essential, we feel, that the EU-3 (Britain, France and
Germany), together with the United States, take a common position here, become active," Merkel said following her first official meeting with Bush as German chancellor.

"We will not be intimidated by any country such as Iran," she
vowed, adding that it was essential to persuade as many countries as possible to speak with one voice on the issue.

Both leaders, however, expressed a desire to follow a diplomatic course in an attempt to come to a solution. "We spent some time talking about the Iranian issue and the desire to solve this issue diplomatically -- by working together," Bush said.
Big job ahead
Bush opened the press conference by saying it was an honor to have Chancellor Merkel at the White House and that Germany was a "valued ally" of the United States.
"We've got an important job ahead of us to work on key issues, like Iran," Bush said.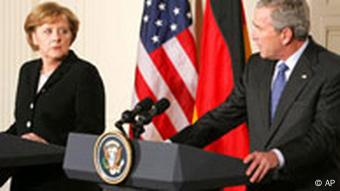 The two stressed the common ground they share
He thanked Germany for the part it has played in the International Security Assistance Force in Afghanistan and, although the two countries have had their differences, welcomed Germany's support in the quest for democracy and stability in Iraq.
"It's a difficult issue in our relationship and I understand that," he said, but added the two countries shared a desire for the Iraqi people to live in freedom.
Chancellor Merkel said the two leaders had had a "very open and candid" discussion which was marked by a "spirit of trust" and opened a new chapter in the German-American relationship.
Guantanamo
One highly anticipated subject was that of Guantanamo Bay on the island of Cuba, where the US has a prison for terrorism suspects which falls outside the purview of US law. Last weekend, Merkel had criticized the prison in a magazine interview, saying it should not exist "indefinitely." She said she would bring it up with the US president during their meeting.
When Bush was asked by a reporter about the topic, he said the German leader had indeed broached the subject and that he would like "to see a way forward." But he defended the treatment of prisoners there and said as long as there is a terrorist threat, Guantanamo would still be needed.
About 500 "war on terror" detainees are held at Guantanamo, some for up to four years.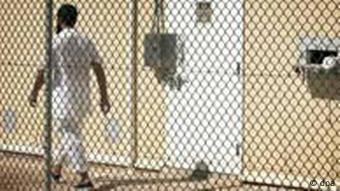 A detainee inside the United States Naval Station in Guantanamo Bay, Cuba
Merkel said that Germany and other countries needed to come up with proposals on how to best deal with detainees "who don't feel bound by any law." She said it was important to find how international law could address the issue and added that the UN was a good forum in which to do that.
"The common ground is that we have shared values even though from time to time we have differences of opinion," she said.
Economic ties
Merkel said that while terrorism was the greatest challenge facing the world in the 21st century, she did not only want to define the two countries' relationship by that issue alone. She stressed that economic and trade issues were also crucial, particularly in the era of globalization and the rising economic power of China.
She said for the countries to meet the challenges in today's global world, they needed to be economically strong. She added that there were some tendencies toward isolationism within the EU, but that countries should not go down that path.
Good pals?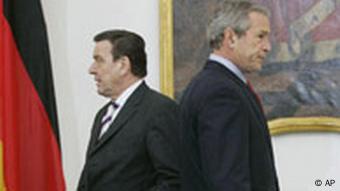 Former Chancellor Schörder and President Bush were often at odds
When asked if he and Chancellor Merkel had gotten on better than the president had with her predecessor, Gerhard Schröder, with whom he shared as relationship that was often icy, Bush laughed and skirted the question.
The two men were barely on speaking terms by the time Schröder left office in November. Bush did say, however, wanted to send his best regards to the former chancellor.
Regarding to the current German leader, Merkel, Bush said: "She's smart, capable, and there's a spirit to her that is appealing. She loves freedom."
Merkel told reporters after the talks that she will return to the United States in May to attend the annual meeting of the American Jewish Committee. She also said she had invited Bush to Berlin.