Despite losing 2-1 to Augsburg on Saturday, Fortuna Düsseldorf, last year's second division champions, had a decent showing in their first Bundesliga game in five years.
But this was not the attacking Fortuna, a team that scored 54 goals in the second division and entranced their home support last season. This Fortuna sat much deeper and did a reasonable job disrupting Augsburg's buildup play.
But two headers, both coming in the second half, undid all of their hard defensive work as the hosts relinquished a 1-0 halftime lead.
Funkel may have had reason to complain after the referee did not give a foul against Augsburg's Daniel Baier before the visitor's equalizer. But ultimately, his team did not get their Bundesliga campaign off to a good start.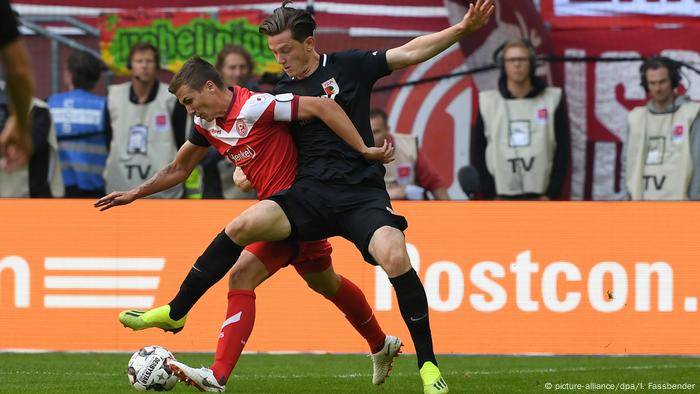 Marcel Sobottka (left) makes one of several successful tackles for Fortuna Düsseldorf
Adjustment period
Before the season, Funkel preached that his side could not be the uber-attacking force it was in the second division. He wants his men to sit deeper to compensate for the increased standard of play and knows that his team needs to work harder than their opponents in order to survive.
To a large degree, those qualities were on display on Saturday. Düsseldorf won 23 tackles in the contest, 11 more than Augsburg did. They often had at least five players sitting in their own penalty area and rarely had more than three players going forward.
But their defensive approach came at the expense of their attacking might. They only managed nine shots in the entire contest, and their first didn't come until a half an hour into the game.
Once Augsburg took the lead, Funkel was left desperately trying to save a point, not a scenario the veteran coach wants to be in at home.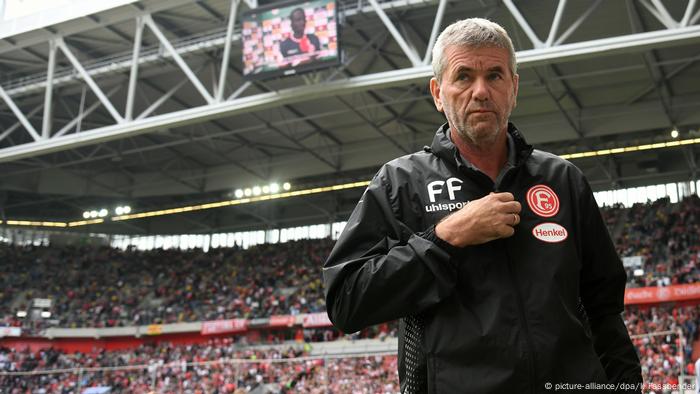 Fortuna Düsseldorf coach Friedhelm Funkel
Sparkle without shine
There are three things you need to know about Funkel, a man a newspaper once described as "Funkeln ohne Glanze" (sparkle without shine).
Firstly, after a 17-year playing career and more than 800 games as a head coach since 1990, there are not many people who have spent more time in German football. He is also one of the best head coaches Germany's second division has ever seen, earning Bundesliga promotion six times with five different clubs. However, his track record in the Bundesliga isn't the best. His teams have lost twice as many games as they have won and he has never led a team to a finish higher than eighth.
Funkel seems the perfect coach for Düsseldorf, who are experiencing just their second season in the top flight since 1997. His 2. Bundesliga-winning side last season did not make many mistakes while holding the ball last season, possessing one of the best passing rates in the division and averaging a league-low 9.2 unsuccessful touches per game. Those positives point to the job the 64-year-old did, both on the training ground and on the touchline.
But his side will need to show much more pizazz up front, similar to what they did last term, if they want to remain in the Bundesliga.