Bulgaria's parliamentary election on Sunday added to the Balkan country's myriad political and economic problems by failing to produce a conclusive winner.
The center-right GERB party (which stands for Citizens for the European Development of Bulgaria), headed by former Prime Minister Boiko Borisov, won the most votes, with around 31 percent. But this still falls well short of a majority in the 240-seat parliament.
The other three parties currently represented in parliament have rejected outright joining a coalition with GERB or supporting a GERB government.
Borisov led his party to victory in 2009, heading up a minority government, but resigned as prime minister this February amid sometimes violent protests against low living standards, high utility bills and corruption. Bulgaria has been run by a caretaker government ever since.
Plagued by problems
The next government will have its work cut out for it. Six years after Bulgaria's entry into the European Union, the Balkan state of 7.3 million remains the bloc's poorest member.
Poverty, corruption, inflation, organized crime, and cuts in healthcare and education have blighted the country's progress. It is in desperate need of an administration that can tackle the Balkan's country's myriad challenges - which is one point all political parties agree on.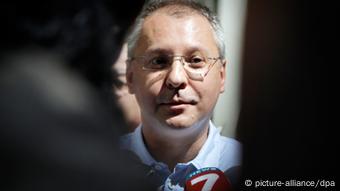 Socialist leader Sergei Stanischev has called for a government with a clear program
In a press conference after the election, Socialist BSP party leader Sergei Stanischev called for a government with the political will to tackle pressing problems.
"The only option is a programmatic government with strong expert participation and with a clear program," he said.
Stanischev cited a number of problems in need of urgent attention. He said his party wanted "to take measures against unemployment, provide financial aid to struggling small and mid-sized businesses, and keep electricity prices at a sensible level."
'A ticking time bomb'
Electricity prices, in particular, are an especially explosive political issue. In February, thousands of Bulgarians took to the streets to demonstrate against rising energy prices, corruption and high utility bills. Those protests led to Borisov's resignation as prime minister.
Among other things, protestors demanded action against foreign utilities that allegedly drove up prices. That fueled a dangerous mix of blanket criticism of capitalism, and xenophobia amid large sectors of society. Experts believe the mood led to around 7 percent of voters casting their ballots for the right-wing nationalist "Ataka" party, helping it to enter parliament.
Electricity prices remain a politically volatile issue for all parties - the fear of further mass protests has led them to promise to tackle the issue. Some observers have spoken of conditions akin to civil war.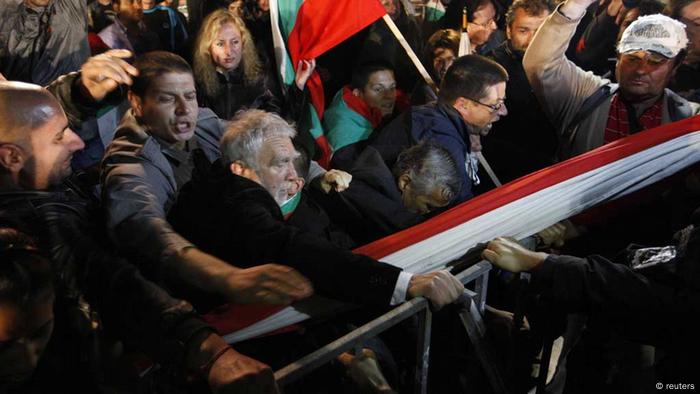 Bulgaria has seen repeated protests - here angry demonstrators after the inconclusive election
The elections were also marred by allegations of vote rigging, and a wiretapping scandal. Voter turnout was just 53 percent, the lowest for any parliamentary election since the fall of communism in 1989.
Some foreign diplomats, who wished to remain unnamed, have described Bulgarian society as "a ticking bomb that urgently needs to be defused."
New election inevitable?
If Borisov is unable to form a coalition, that opportunity will go to the socialists, running a close second behind GERB.
Socialist leader Sergei Stanishev said his party was ready to meet with all parties except Borisov's, as well as with citizens' organizations, in order to form such a cabinet.
But the socialists are expected to run into trouble with the existing parliamentary parties, especially the mainly Turkish MRF party and right-wing Ataka. The xenophobic party is notorious for its attacks against the country's Turkish minority.
If Bulgaria is unable to form a new government, the current interim administration will continue its work and pave the way for new parliamentary elections in fall.
Some observers point out that for former Prime Minister Boiko Borisov, being both election winner and opposition leader in parliament present an advantage. Borisov's is already considering presidential elections two years from now, because he would ideally like to reach the country's highest post.