In a scandal emerging in the run-up to the Bulgarian election, officials have seized 350,000 unregistered ballots at a printing house in the town of Kostinbrod. Because official ballot papers had already been distributed to polling stations on May 8, the newly found collection appeared suspicious.
The printing plant's owner happens to be a local politician from the center-right GERB party, which ruled Bulgaria under Prime Minister Boiko Borisov until mass protests in February and March of this year forced the government from office.
May 11, 2013, had officially being a declared a "Day of Refection" in Bulgaria - a pause in campaigning preceding the election - but the country's opposition parties ignored these regulations in harshly condemning the alleged falsification. Some of them even deemed the incident an attempted coup.
Meanwhile, the owner of the printing house - which held an official license to print ballot papers - claimed that the ballots seized by the public prosecution office and the national security authority (DANS) were faulty copies. Experts have pointed out that keeping them inside the building was illegal, in any case.
Struggle for power
According to media reports, the printing house owner was a close friend of former interior minister and GERB campaign manager Tsvetan Tsvetanov. The latter was also recently involved in the alleged wiretapping of politicians and journalists. The scandal saw public prosecutors take strong measures against the former government, with both Borisov and Tsvetanov subjected to interrogations.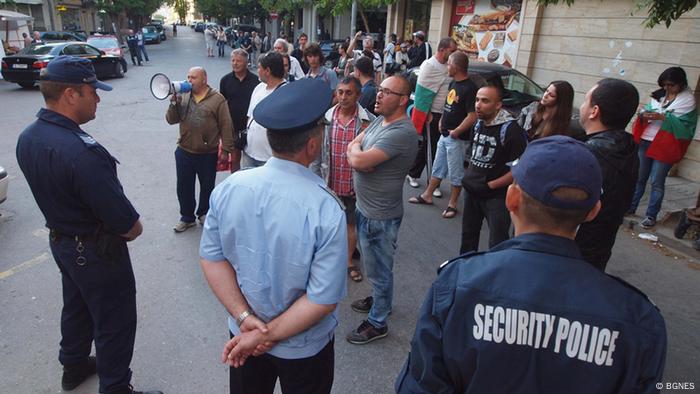 The ballot falsification scandal shocked the nation
Some observers believe that Tsvetanov has maintained extensive control over the country's police force despite the government's resignation, and has used this to manipulate the election. This allegation is supported by the fact that the public prosecutor's office and DANS had not arranged the raid on the printing house together with the police.
But this could also represent a power struggle within Bulgaria's security body: While the public prosecutor and DANS were attempting to expose the Borisov government's wrongdoings, the police are doing their best to sabotage their efforts.
Advantage for the opposition?
The scandal could have a serious impact on voter turnout and election results. The mood in the country is currently extremely agitated. Following the mud-slinging of the political campaigns, the opposition parties firmly believe that Borisov and his supporters are capable of committing electoral fraud to stay in power.
At the same time, poll-takers speculate that the ballot scandal is drawing support for the Bulgarian Socialist Party (BSP) and some smaller parties, which could lead to GERB's defeat.
Bulgaria, the European Union's poorest member, continues to be monitored by the European Commission due to widespread corruption and problems in the justice sector. Until very recently, the country's opinion polls showed a preference for GERB, closely followed by the BSP.
Other parties expected to enter parliament after this election are the Movement for Rights and Freedoms, which represents Bulgaria's ethnic Turkish minority, and the ultra-nationalist Ataka.