On August 1, Ghanaian-born Edward Enninful will take over at British "Vogue" from Alexandra Shulman, who has helmed the influential fashion publication for 25 years.
Enninful, 45, was only 18-years-old when he became the fashion director of i-D magazine. He was later a contributing fashion editor at Italian "Vogue," where in 2008 he edited the much-heralded "all black" issue.
Most recently the creative and fashion director at "W Magazine," Enninful was awarded an OBE from Queen Elizabeth II in 2016 for his work in fashion. Friends Naomi Campbell and Kate Moss hosted a party to celebrate the award, with Madonna also attending.
Since Alexandra Shulman announced in January that she would be stepping down as editor-in-chief of British "Vogue" - which turned 100 last year - there has been a lot of speculation about her successor. When Enninful was confirmed as the magazine's first male head on Monday, the response was highly positive.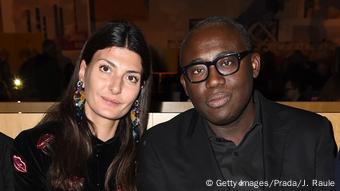 Edward Enninful and "W Magazine" fashion editor Giovanna Battaglia at Milan Fashion Week, 2017
Lauren Cochrane of "The Guardian" gushed that "a black man at the helm of the most established fashion magazine in Britain is exciting, but not just because of Enninful's race and gender. The stylist has a history of making beautiful, timely - and sometimes controversial - images."
Jonathan Newhouse, the chairman and chief executive of Condé Nast International, which publishes "Vogue," called Enninful "an influential figure in the communities of fashion, Hollywood and music which shape the cultural zeitgeist," adding that he is "supremely prepared" for the job.
"I grew up reading British 'Vogue' - I am so honored and humbled to be taking up the mantle of editor," Enninful told the magazine he will soon head. "I realize I am stepping into the shoes of a hugely respected editor in the shape of Alexandra Shulman, someone who has chosen to leave at the top of their game with a legacy of 25 years of success."
sb/kbm (Reuters, AP, AFP)