Christiane Arp has been the editor-in-chief of "Vogue" Germany since 2003, promoting German fashion both at home and abroad. In January 2015, she launched the Berliner Mode Salon with fashion manager Marcus Kurz to support German designers by providing a platform for year-long marketing initiatives and a place for designers to present their collections at runway shows during Berlin Fashion Week. The Berlin Fashion Weeks opens Tuesday and "Vogue" is a regular presence at the event with its "Vogue Salon."
DW: Wonderful stories have begun with "I have a dream." When you dream about Germany's fashion landscape, what do you see?
Christiane Arp: My dream would not be for Berlin to be a city which hosts a large Fashion Week. I'm much too northern German for that.
I would like to see some of the designers I've been supporting for quite some time now make their way in Germany and internationally. I'd like to see them find their place in the fashion industry because a few of them are really remarkably talented - Marina Hoermanseder, Tim Labenda, René Storck or William Fan, just to name a few. That's the driving force behind what I do both during Fashion Week and outside of it. I'd like to offer these young people my platform. "Vogue" is a huge stage for them: The word "Vogue" and its editor-in-chief carry a lot of weight in the fashion industry.
The media and influential actors play a large role in the fashion industry. As does retail, though many German designers like Antonia Goy say it lets them down and is cowardly. And there are too few affordable producers in Germany. There's also less of a cultural openness for fashion in the way that there is in France or Italy. What do you think needs to change within the fashion industry so that Germany can create its own identity as a fashion-forward place?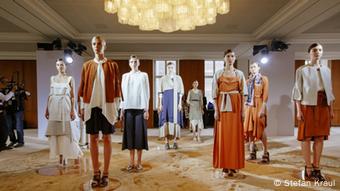 At the Berliner Mode Salon, young designers display their latest collections twice a year
I don't see things that way. There are structures within Germany. Some of the designers that I've already named work on their clothing pieces with tailors here in Germany to create the final product. But it is essential that they find their way onto the market and to consumers. That is something that retail is suffering from, because as a young creative person you can find your way to the market via social media or your own website and bypass the retailer altogether.
Basically, this means that you don't need to only be a great fashion designer, you also need to have the "creative leader" gene. You need to be someone who doesn't only design things, but also finds it important to sell them. This connection to the "now" and to society is essential.
I also believe that we shouldn't strive to be like Paris. Paris exists already. It has a wonderful system. Berlin has to be different, otherwise there is no reason for people to come here. What we can learn from Paris is that we need to be open. Paris was always open to every design, every idea. They didn't nip things in the bud, as we have perpetually done when it comes to fashion design out of Germany. Creating that openness is something I'm working on.
In your opinion, what is Berlin's identity and that of Germany's fashion landscape? What are some of the strengths that we can build upon?
I believe that creative cities need something raw, something radical, these opposites that play between beautiful and ugly. Berlin has that. It's all there. I don't believe anymore in the Berlin style. That shouldn't exist; it's not present anywhere anymore. There is no such thing as a Parisian or London or New York style. Designers today are so different. And at the end of the day, it's the variety of images that makes a place such as Berlin so attractive.