Officers working in "Operation Magnify" arrested 97 people, mostly Vietnamese, for suspected immigration offenses. The government is working to stamp out illegal working by targeting specific "risk" industries, the Home Office said in a statement.
"This operation sends a strong message to those employers who ruthlessly seek to exploit vulnerable people and willfully abuse our immigration laws," Immigration Minister Robert Goodwill, added.
"Modern slavery is a barbaric crime which destroys the lives of some of the most vulnerable in our society."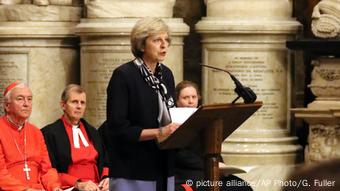 Theresa May promised to crack down on modern slavery
Officers referred 14 of those arrested to organizations that help potential victims of slavery and human trafficking. The Home Office said it would deport anyone without a right to be in the country.
Most of those arrested were Vietnamese, but some also came from China, Ghana, India, Mongolia, Nigeria and Pakistan.
Authorities issued warnings to 68 businesses which could face fines of up to 20,000 pounds (23,500 euros) per unauthorized worker.
In 2015 Theresa May, who was interior minister at the time, tabled the "Modern Slavery Act." Soon after her swearing in as prime minister this year, she pledged to establish a government task force on modern slavery along with further funding for the issue.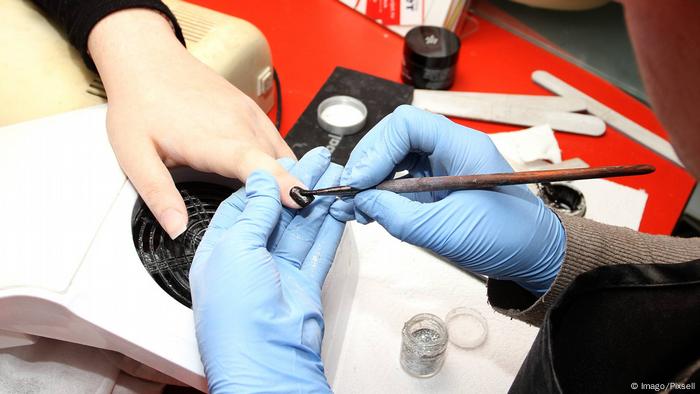 Across the Western world nail salons became notorious for slave-like conditions
Nail salons notorious
Nail salons have become notorious for slave-like conditions across the Western world in recent years. An investigation by the New York Times in 2015 found a vast majority of nail salon workers were paid below minimum wage - if they were paid at all - and routinely endured humiliation at the hands of their employers.
An investigation by British paper Sunday Times in 2013 estimated there were 100,000 Vietnamese manicurists working in the country, alleging that many were illegal migrants, although a fact-check by the The Guardian questioned those figures.
The problem of modern slavery in Europe was exacerbated by the influx of refugees over recent years, the European Commission found in May.
Nearly three-quarters of North African migrants moving to Europe experienced serious abuse, exploitation and potential human trafficking, according to a damning October report released by the United Nations and the International Organization for Migration.
Around the world almost 46 million people were forced intolabor, sex work, debt bondage or other slave-like conditions, according to a study released by the Australia-based Walk Free Foundation in May.
aw/kms (Reuters, AP)