Britain's former Prime Minister David Cameron said on Monday he had told the new premier, Theresa May, of his decision to stop representing his consituency in the county of Oxfordshire.
The unexpected announcement came only months after his resignation as British leader shortly after he failed to convince Britons to vote to stay in the European Union in a referendum. His decision to also leave parliament has come unusually quickly, with former prime ministers typically staying on in parliament for several years after leaving office.
"In my view, the circumstances of my resignation as a prime minister and the realities of modern politics make it very difficult to continue ... without the risk of becoming a diversion," Cameron said in a statement.
"I fully support Theresa May and have every confidence that Britain will thrive under her strong leadership," the 49-year-old ex-prime minister added.
Reckless referendum?
Cameron had represented Witney in the rural county of Oxfordshire, west of London, since 2001. At the time of his resignation as prime minister, he had said he was "keen to continue" in the role of consituency MP and would seek re-election at the next general election scheduled for 2020.
It was not clear when a by-election for his seat will take place, nor did Cameron announce any concrete future plans, though he was quoted by broadcaster ITV as saying he hoped he could "still contribute in terms of public service and contribute to our country."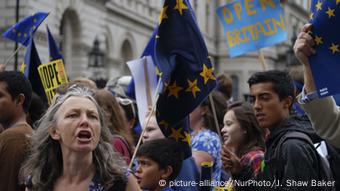 The Brexit referendum has left behind a divided nation
Cameron's decision to hold the "Brexit" vote, which he announced in 2013, was seen by many as an attempt to placate Euroskeptic opponents in his center-right Conservative Party. Following his resignation as prime minister, critics accused him of recklessness in holding the referendum at all.
Theresa May is now tasked with the complicated task of leading Britain out of the 28-state European Union after 52 per cent of Britons voted in favor of the "Brexit" at the June 23 referendum.
tj/ (AP, Reuters, AFP)