On the night of August 20, 2006, waste-disposal trucks spread out in the port city of Abidjan, looking for somewhere to dump 500 tons of highly toxic oil waste. The smell of onions and burnt tires wafted up from the trucks as they approached the city dump, prompting locals to block the access route and force the drivers to leave. Instead, the drivers began dumping the waste at random sites around the city.
The black sludge contained a mixture of petrochemical waste and caustic soda, a toxic blend that caused the deaths of at least 15 people, while another 100,000 fell ill. Hospitals in Abidjan reported cases of diarrhea, headaches, vomiting, and nosebleeds, as well as skin and lung burns.
The trucks belonged to a contractor hired by British oil trader Trafigura.
For the past three years, Amnesty International and Greenpeace have been interviewing the victims, the doctors and the original drivers of the waste disposal trucks. They released their findings Tuesday (September 25), and are calling on the British government to open a criminal investigation into Trafigura's actions.
Dumping waste in Africa
The oil waste was originally created at sea, when Trafigura picked up low-grade gasoline and refined it on board a ship. The ship then traveled to the Netherlands for treatment - but Trafigura executives found the costs in Europe to be too high, and pumped the waste back onto the ship. It then left Dutch waters and headed for Ivory Coast, where a company offered to treat the waste for a drastically reduced price.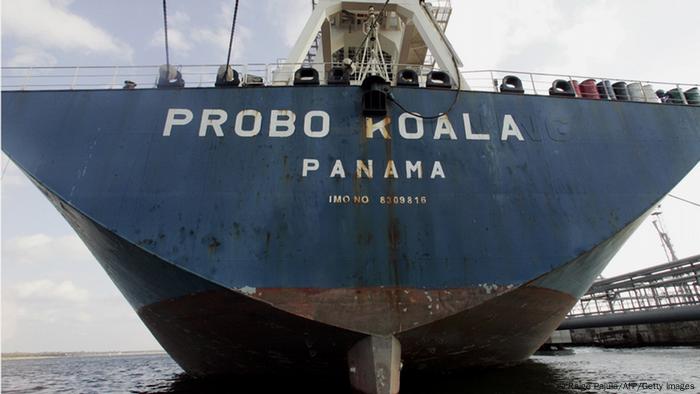 Carrying Trafigura's toxic load, the Probo Koala left Dutch waters and headed for the Ivory Coast
In 2010, a Dutch court fined Trafigura 1 million euros ($1.28 million) for illegally exporting highly toxic sludge to Ivory Coast. The company has also compensated about a third of the victims, and reached a settlement with the Ivory Coast government. But in their report, entitled "The Toxic Truth," Amnesty International and Greenpeace wrote that the company has never been held accountable for its actual role in the dumping.
Audrey Gaughran, the director of the Africa department at Amnesty International, told DW in an interview that this goes to the heart of one of the big issues in this report. "When you've got human rights and environmental damage caused by actions that cross country jurisdictions, and you've got a multinational company like Trafigura involved, you have to look at opening prosecution in different jurisdictions."
She explained that in this case, the decisions were made in Britain, the waste was exported from the Netherlands and the impacts were felt in Ivory Coast. "All of those countries have signed international laws meant to prevent exactly this kind of thing from happening - toxic waste going from developed countries and being dumped in Africa," Gaughran said.
The campaigners have also called into question a deal signed by Ivory Coast giving Trafigura sweeping legal immunity from prosecution in exchange for a monetary settlement. Gaughran explained that this can happen when poor nations are in crisis, and need the funds being offered.
Demand for court action
In a statement sent to DW, Eric de Turckheim, an executive board member of Trafigura, denied responsibility and said the report "contains significant inaccuracies and misrepresentations." Turckheim accused Amnesty and Greenpeace of oversimplifying difficult legal issues, and of drawing "selective conclusions."
In response to Amnesty's wish to reexamine the immunity deal, Turckheim wrote that courts in five jurisdictions had reviewed different aspects of the incident, along with connected settlements, which he described as evidence that "the right judicial scrutiny" had been applied.
"Many different authorities and countries were involved and there is little doubt that mistakes were made and we believe that everyone involved would have wanted to see things handled differently," Turckheim said.
Trucks illegally dumped waste in and around Abidjan, including here at Akuedo village
Full disclosure
In their study, Amnesty and Greenpeace wrote none of the states involved have forced Trafigura to disclose information about the contents of the waste and effects of exposure. In their interviews, they discovered this was one of the main concerns of the victims in Abidjan.
"They still have questions about whether there are any long-term impacts for them," said Amnesty's Gaughran. Her group wants to see Ivory Coast set up an ongoing health study, with the help of the Netherlands and Britain.
Gaughran explained that Greenpeace and Amnesty have made recommendations for the future of hazardous waste treatment, calling for full accountability and - if laws have been breached - strong, cooperative action between national governments.
"It will show that governments are serious about preventing the transboundary movement of hazardous waste."