The British Ministry of Defence announced on Saturday that it is investigating allegations of abuse against prisoners of war in Iraq.
The allegations arose after British daily newspaper, The Independent, published an article in which a lawyer acting for detainees cataloged more than 30 new cases of abuse, inlcuding rape and torture.
Female soldiers were accused in the article of aiding in the physical and sexual abuse of prisoners.
The claims were being taken seriously, according to Minister for the Armed Forces William Rammell.
In a statement Rammell said formal investigations needed to take place "without judgements being made prematurely."
British Abu Ghraib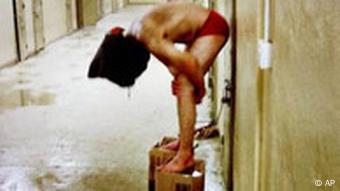 The pictures of the abuses at the Abu Ghraib prison caused an international outcry
One claimant alleges he was raped by two British soldiers while in a detention center, while a 14-year-old boy claims he was forced to perform a sex act on a British soldier. Others allege they were stripped naked, photographed and abused.
In another incident described in the article, detainees were piled atop each other and electrocuted.
The allegations of abuse are being compared to the treatment of prisoners in the Abu Ghraib where a similar scandal broke in an American-run prison in 2004.
An investigation is already underway into the death of an Iraqi civilian, Baha Mousa, who died in British custody in Basra in 2003 after sustaining 93 separate injuries to his body.


sjt/Reuters/AP
Editor: Andreas Illmer