A day after British MPs voted to allow Prime Minister Theresa May to formally launch the country's exit from the European Union, the government has published a "White Paper" policy document, setting out its Brexit plans.
The 77-page paper reiterated the 12 priorities set out by May in a speech last month, including that Britain would seek a comprehensive free trade agreement with the EU but not an unlimited transitional status.
Previously, the government confirmed that Britain would leave the EU's single market, but the document confirmed that the country would also no longer be part of the bloc's customs union, which allows free trade with other EU states.
The decision potentially opens the country up to paying much higher import duties and tariffs, the "Independent" newspaper reported.
Repeal law will follow
The document says that a second "White Paper" will be published in due time to repeal the European Communities Act of 1972 and convert much of EU law into British law.
The paper suggests a similar arrangement to the current EU Single market could be viable, and also highlights how a "phased process of implementation" of transitional arrangements could be achieved after the negotiations with Brussels have been completed.
While the paper doesn't give any guarantee to EU workers in the UK, it says the issue is "one of this government's early priorities for the forthcoming negotiations."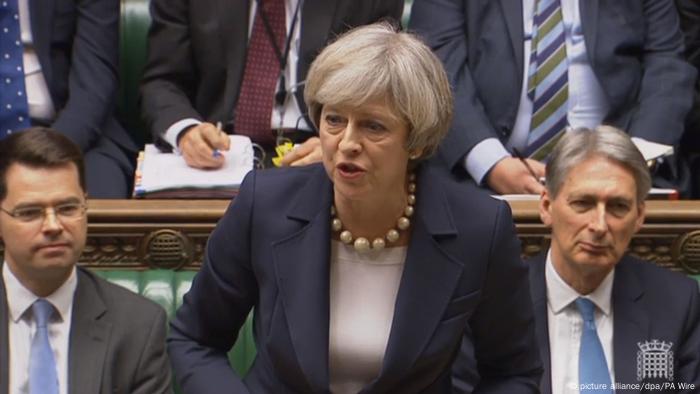 British Prime Minister Theresa May is set to launch divorce proceedings with the EU next month
Regarding taking control of immigration after leaving the EU, the document describes a possible "phased process of implementation" having considered the impact on the economy and the labor market.
New EU relationship
As the "White Paper" was released, Brexit Secretary David Davis addressed parliament, telling MPs that "we want the EU to succeed politically and economically," and Britain would work toward "a new positive and constructive partnership" with the bloc.
Davis confirmed that Britain would leave the customs union, saying after Brexit: "We will not be bound by the EU's Common External Tariff or participate in the Common Commercial Policy."
He said the long-term goal for the UK would be "the most free and frictionless trade in goods and services as possible."
He also said Britain would not be "throwing any people out" as a result of Brexit, but that he needed similar assurances from EU leaders over the fate of British residents on the continent.
But the opposition Labour Party complained that the document was only released to MPs as David got up to speak.
On Wednesday, MPs voted 498 in favor and 114 against a short piece of legislation that allows two years of exit negotiations with Brussels to formally begin.
Formal negotiations with the EU can only begin once May has triggered Article 50 of the Lisbon Treaty, which she has promised to do by the end of next month.
mm/rg (AFP, AP, Reuters)