It's just about three weeks since the United Kingdom's historic Brexit referendum, in which 52 percent of Britons voted to leave the European Union. Since then, British Prime Minister David Cameron, who urged the country to Remain has resigned and his successor, Theresa May, is moving into Downing Street.
The Brexit vote - led by a majority of voters over the age of 50 - resulted in stock markets around the world plummeting and in a divided UK, with younger generations blaming their elders for ruining their future and with Scotland calling for independence.
Some Leave voters are now saying they regret their decision, claiming they had been misinformed and misled by the Leave campaign. In an exclusive interview with DW, British Member of European Parliament (MEP) and Vote Leave strategist Daniel Hannan denied these accusations and said he fully stands behind what the campaign did.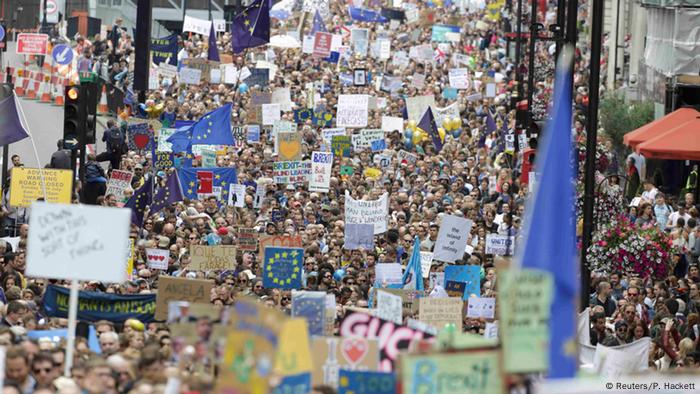 Thousands of Britons have been protesting Brexit since the referendum
'I never misled anyone'
In a recent BBC interview, former Prime Minister John Major called the Leave campaign "deceitful and misleading," saying it verged "on the squalid for a whole galaxy of inaccurate and frankly untrue information."
Confronted with this statement and asked whether he ever stretched a fact in his campaign, Brexiteer Hannan said he personally never misled anyone but that "there were good and bad arguments on both sides."
Hannan, who wrote a book called "Why Vote Leave," stressed that he stands by what the Leave campaign did but admitted that the campaign was divided and had different voices advocating for different things, such as regaining British sovereignty from Brussels vs. stopping immigration.
"The one thing we all agreed upon is that we said that we would take back control and we will."
How this control is being exercised, however, is up to a sovereign parliament, Hannan said.
'Britain will flourish as never before'
According to a poll by Germany's Chambers of Commerce and Industry (DIHK), more than a third of German businesses are planning to reduce investments in Britain and one in four German businesses wants to cut jobs in the UK after Brexit. Hannan argued before the vote that no one would lose their job except himself and a few hundred British eurocrats. He still says he does not believe that Britain as a business location will be weakened by Brexit.
"I don't think there is going to be any prejudicial change to out commercial relations with our European allies, who will remain our friends in any circumstances, but I think there will now be a long overdue emphasis on our relations with non-EU markets," Hannan said.
The "political chaos and economic uncertainty" that Britain was going through before the referendum "is bad for growth," Hannan added. "It's bad for imports because they keep rising."
Hannan said he thinks the British currency is "hugely overvalued" and that the drop in sterling since the vote was needed.
"I think it was long due a correction. And just as in 1992 and 2008 the correction was a prelude to strong economic growth."
The British MEP believes overall employment in the UK will be even higher in a few years.
"I think five years from now, Britain will be flourishing as never before and people will look back and wonder why we didn't do this long before. (…) I have absolutely no doubt that Britain will be a more global, more deregulated, more free-trading country five years from now."