Diego, Claudio Pizarro and Frank Baumann were the goal-scoring heroes for Bremen to advance to their first ever European final on May 20 in Istanbul.
Bremen went into the clash trailing 1-0 from the first leg but conceded a goal to hosts Hamburg in the 13th minute when Joris Mathijsen powered his way upfield from defence before finding Ivica Olic who chipped the ball over Bremen's goalkeepr Tim Wiese.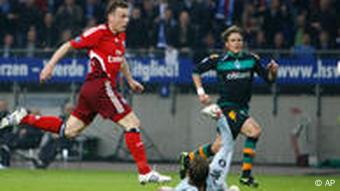 Hamburgs's Ivica Olic, left, scores his side's first goal past Bremen's goalkeeper Tim Wiese
Olic could have doubled Hamburg's lead on 27 minutes but his effort from close range was saved. Within two minutes Bremen were level when Diego and Pizarro combined well before the Brazilian slotted the ball past Frank Rost.
Diego nearly netted a second on 37 minutes but his shot from 25 metres hit the crossbar. However, the 24-year-old was booked two minutes before the break for an off-the-ball row with Alex Silva, who also saw yellow, meaning the Brazilian will miss the final.
"It was a difficult situation I didn't do anything, not to go to the final is very bad for me," said Diego.
Peruvian striker Pizarro scored on 66 minutes, beating Rost at the near post although the Hamburg goalkeeper really should have done better.
Baumann looked to have put the game beyond Hamburg with Bremen's third seven minutes from time and although Olic popped up to score his second of the game to make it 3-2 on the night to set up a tense finale, Bremen held on to make it to their first UEFA Cup final.
"We played well, it was tough to come from two goals down," said Pizarro. "Diego played a great match its a pity he's not in the final but thats football."
Bremen are the first German side to reach a UEFA Cup final since Borussia Dortmund reached the final in 2002 only to lose against Feyenoord Rotterdam.
Ruhr Valley side Schalke 04 were the last German winners back in 1997.
Same procedure?
Thursday's semi-final fixture is the third in a series of four matches to be played between the two northern German clubs within a 19-day period.
The first game went Bremen's way when goalkeeper Tim Wiese made three saves in a penalty shootout to knock Hamburg out of the German Cup semi-final on April 22.
The second saw Hamburg gain revenge eight days later with its 0-1 victory in Bremen. The fourth and final derby match is a Bundesliga fixture scheduled for Sunday, May 10.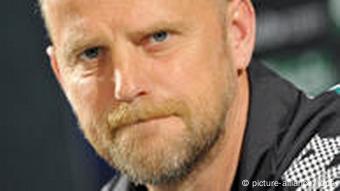 Thomas Schaaf has coached Werder Bremen for a decade
Intense rivalry
As the two biggest cities in northern Germany, Hamburg and Bremen have a long history of competing with each other as Hanseatic trading powers, regional centers of industry and culture, and sporting contenders.
"What's very special is that they more or less share the same backyard from which they can get their soccer fans," Deutsche Welle's sports head Wolfgang van Kann says. "So it's always a question of who is better, and where the fans will go."
From a historical perspective, it's difficult to say which club has been more successful. According to the so-called "eternal table," which records the performances of all Bundesliga clubs since the competition was founded in 1963, Werder Bremen and Hamburg are ranked second and third respectively. At the time of writing, they were separated by just six points.
"Clearly Hamburg has the longer tradition and the longer streak of success," van Kann says. "Bremen has only come up in the last one or two decades, but with huge success."
While Hamburg hasn't won a title since it lifted the German Cup in 1987, Bremen won the German double in 2004 and has qualified for the Champions League for the past five seasons.
Fans were disgusted when hooligans killed a 16-year-old in 1982
"The clubs have always been very different," van Kann explains. "For example you can see that Hamburg has had several coaches within the past few years, while Bremen has only had one coach for the last 10 years."
Fan violence
One thing the two clubs do have in common is a dedicated fan base. Hamburg boasts almost 55,000 members, while Bremen has more than 30,000. But violence involving so-called "Ultras" and militant fan groups has driven a wedge between the two cities on more than one occasion.
The worst incident took place in October 1982, when Hamburg hosted Bremen for a second-round German Cup match. Despite a large police presence around the main train station and the stadium, hooligans belonging to a group known as the "Hamburg Lions" attacked visitors with beer cans, stones and fireworks.
A 16-year-old Bremen fan named Adrian Maleika was killed after he was hit on the head by a stone. While most of Germany was shocked, a number of hard-line fans were quoted in the press as being indifferent or hungry for revenge.
Tensions between supporters of the rival clubs threatened to boil over until representatives of more than 200 fan groups met in the town of Scheessel, half-way between Bremen and Hamburg, and signed a "peace deal" banning revenge attacks.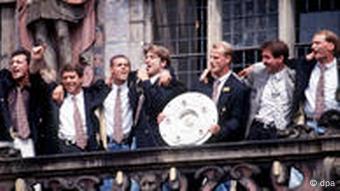 Werder Bremen topped the Bundesliga in 1993 and 2004
While provocative lyrics sung in stadiums during northern derbies occasionally refer to the incident, most fans have put the conflict behind them, and prefer to remember - or forget - these four landmark matches from the past 30 years:
Bremen 6-0 Hamburg, May 1, 2004
The most one-sided result between the two clubs was in Bremen as the 2003-04 Bundesliga season drew to an end. Some 42,000 spectators watched Hamburg striker Sergej Barbarez score an own-goal and trigger an avalanche of Bremen goals. One match later, Werder Bremen won the championship with a spectacular 3-1 victory over Bayern Munich.
Bremen 4-2 Hamburg, October 27, 1993
Just over 34,000 fans turned out to watch the fourth round German Cup fixture in Bremen's Weserstadion. Austrian midfielder Andreas Herzog gave Bremen an early lead, but Hamburg managed to score twice after the break before Bernd Hobsch leveled the scores in the 74th minute. When Hamburg's Andreas Sassen was shown a red card, Bremen's Frank Neubarth and Wynton Rufer capitalized by both finding the net in the final four minutes. The convincing victory saw Werder Bremen progress through the tournament to win the 1993 German Cup.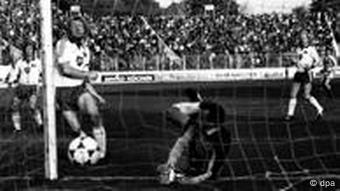 Horst Hrubesch was a key player for Hamburg in 1982.
Bremen 5-0 Hamburg, May 29, 1993
Bremen also secured the Bundesliga crown with one game to spare in 1993 thanks to this overwhelming victory. Andreas Herzog and Wynton Rufer both scored as the home crowd celebrated their club's third title. Bremen ended the season one point ahead of Bayern Munich, leaving Hamburg to finish 11th. Legendary Bremen coach Otto Rehhagel described the victory as a "milestone" for the club.
Hamburg 5-0 Bremen, May 15, 1982
One of Hamburg's two highest-ever wins against their northern derby rivals came in the closing stages of the 1981/1982 campaign. A total of 53,400 fans watched Horst Hrubesch - now Germany's Under-21 coach - score a hat-trick as Hamburg demolished Bremen's defense to win the Bundesliga title at the expense of second-placed FC Cologne.
Author: Sam Edmonds
Editor: Darren Mara