A fresh effort to draw the world's leading economies into a binding deal to tackle climate change is getting off to a shaky start.
Bickering over procedural issues tied up much of the two weeks of UN climate talks that ended in Bonn on Friday, the first time negotiators met since last year's summit in Durban.
"The window of opportunity is very slowly closing down on us," said conference chairwoman Sandea de Wet towards the end of the session, as delegates struggled to agree on a chair for an important new working group known as the Adhoc Durban Platform.
Under the Durban Platform agreed in South Africa last year, countries are to come up with a binding climate deal by 2015 that would go beyond the Kyoto Protocol to cover all nations, not just rich countries. It is to come into force by 2020.
European and American negotiators made veiled references to China as the source of blocking and back-tracking on the progress reached in Durban. China accused rich countries of trying to get out of their standing commitments.
"The spirit of collective action was broken in Bonn," said the European Union's main negotiator Artur Runge Metzge.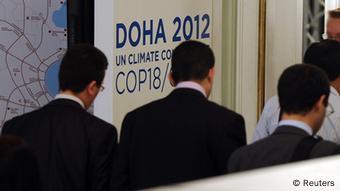 Delegates head to the next talks in Qatar with much to do
No trust, emissions growing
Civil society organizations said they were dismayed by a lack of progress and urgency.
"When people start fighting about agendas it is a symptom of lack of trust," said Oxfam's Celine Charveriat.
The Climate Action Tracker network on Thursday said current pledges to cut greenhouse gas emissions remained pitiful and would lead to at least 3.5 degrees Celsius of warming.
It said a ceiling was difficult to quantify as countries were not even implementing the policies needed to achieve their "inadequate" pledges, despite promises to keep warming below 2 degrees Celsius, the upper limit of what many scientist consider safe.
"We've already identified a major emissions gap and the action being taken is highly unlikely to shrink that gap - indeed it seems that the opposite is happening," said Bill Hare, Director of Climate Analytics, part of the Climate Action Tracker network.
Separately, the International Energy Agency reported on Thursday that the world is increasing its dependence on carbon-intensive energy. In a report, it said emissions from fossil fuels reached a new record of 31.6 billion tons last year, up 3.6%.
Oxfam's Celine Charveriat put the onus of responsibility on rich countries to jump-start the climate talks.
"I don't buy that no countries can move" she said, pointing to the world's response to the financial crisis in 2009.
"Money is there – look at subsidies for fossil fuels. For rich countries alone it is around $60 billion," she said.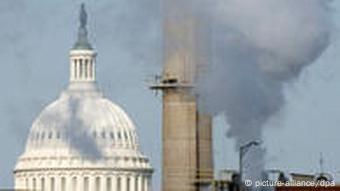 New US measures will not be enough to meet its "inadequate" pledges, says Bill Hare
Qatar an unlikely opportunity
Wael Hmaidan, director of Climate Action Network International, said negotiators would need to wring much more flexibility from their governments before they meet again in Qatar at the end of the year.
He added that the Gulf state could also do more to broker consensus ahead of the meeting, considering the effort it has put into responding to the Arab Spring.
The UN's climate chief, Christiana Figueres, dismissed the insinuation that Qatar was an inappropriate choice of venue for the talks, saying it would allow oil-rich Gulf states, frequently seen as climate laggards, to display their investments in cutting-edge solar and desalination technologies.
She also hoped they would feel invited to make their own pledges to cut emissions.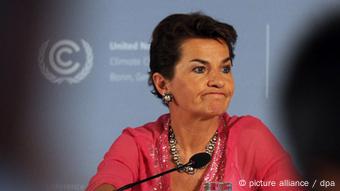 Figueres hopes the next venue will encourage Gulf states to be more ambitious
After some two decades of talks centered around the United Nations Framework Convention on Climate Change, Figueres defended the progress made to date.
She said governments had reached consensus on a rules-based system, pledges to stay below 2 degrees Celsius, and commitments to poor countries; for example, through a green climate fund and a committee to oversee their adaptation to global warming.
Pressed to name a failure of the UN process, she said: "We have not stabilized the climate."

Author: Nathan Witkop
Editor: Gregg Benzow