Over the years, the German music producer Frank Farian has consistently been creating one hit after the other at a breathtaking speed. The former cook seems to know the tastes of music fans perfectly well.
Although he has been achieving this through different bands, his most successful formation remains Boney M. The man who has once been nicknamed "Mr. German Hit" has also produced artists such as Meat Loaf, model and singer Yvonne Catterfield, and the infamous R&B duo Milli Vanilli.
In the beginning there was rock 'n' roll
Born on July 18, 1941 in Kirn as Franz Reuther, he wasn't really predestined to a career in music. He did receive a guitar when he was 12, but later started working as a trained cook in various restaurants. Why? "I was always very hungry," explains Farian.
Rock 'n' roll - and more specifically Elvis Presley and Bill Hailey - then changed his life for ever. After discovering their music, he invested everything he had in equipment to play rock 'n' roll, and decided he wanted to be called Frank Farian.
His first band, Frankie Boys Schatten, would do gigs for pocket money. Their self-produced album was recorded in a stable and was sold nearly 1,000 times.
At the end of the 1960s, he signed a record contract as a solo musician. He turned into a pop musician and first performed on the German entertainment TV show, "Hitparade." His first big hit was "Rocky" in 1976. At around the same time, the group Boney M. was created.
Disco sensation Boney M.
"Daddy Cool" was Boney M.'s first major hit.
Farian was the true mastermind behind this band. He had picked three women and a man from a catalog of artists for the formation, and the voice on the recordings was his own. Bobby Farrell, the "lead singer" and dancer in Boney M., simply moved his lips in sync to the songs when performing on stage.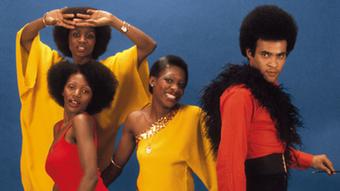 Boney M. is Farian's most successful project
This never harmed the success of the band. They were a sensation not only in Germany, but worldwide. Boney M. had 38 Top 10 hits between 1975 and 1988 in Germany, with 15 singles reaching the top of the charts. In Britain, three Boney M. singles - "Mary's Boy Child," "Rivers of Babylon" and "Brown Girl in the Ring" - are among the five best-selling records ever.
Similar recipe: Milli Vanilli
This list of bands under which Frank Farian released his songs seems practically endless and includes La Bouche, Gilla and Eruption, as well as the duo Milli Vanilli.
#At the end of the 1980s, Farian created this band in the same way he did fro Boney M. Milli Vanilli's fame was tainted in 1990, when the world discovered that the band members weren't the actual singers of the songs. The scandal was somewhat surprising, considering that Boney M.'s lip-synch performances had been an open secret for years already.
However, in the US, this was not something to joke about. The album "Girl You Know It's True" had been number one on the Billboard charts for seven weeks - a feat that hadn't previously been achieved by any other band from Germany.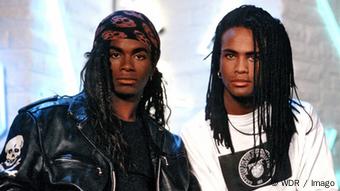 The playback trick didn't go down well for Milli Vanilli
The revelation caused such a scandal that Milli Vanilli's Grammy was withdrawn and a court decided that people who had bought their albums and concert tickets could obtain a refund.
The hit machine as a musical
In 2006, "Daddy Cool," Frank Farian's first musical, premiered in London's Shaftesbury Theater. It includes not only hits by Boney M., but also Milli Vanilli and Eruption songs. The musical tells the story of Sunny, a young man whose whole life is music - a very autobiographical play.
Frank Farian's story is far from finished. He's still successful at 75. That might be because he's so realistic about himself: "I'm a good craftsman, not a great composer."