The box office smash Black Panther took home the top prize at the 25th annual Screen Actors Guild awards (SAGs) held in Los Angeles Sunday night.
The award for best ensemble cast in a motion picture is the most significant award the film has received yet — putting the movie in contention for Best Picture, one of the seven awards it's nominated for, at next month's Academy Awards.
Read more: 2019 Oscar nominations: 'A Star Is Born' and 'Roma' to vie for best film
The awards ceremony, which includes bests for both television and cinema offerings, is considered a good indicator of how the Academy will vote, as a large percentage of the academy is made up of actors.
"To be young, gifted and black," actor Chadwick Boseman said from the stage, as he tried to put into context the moment for the trailblazing Black Panther, which also won for its stunt performer ensemble.
"We know what it's like to be told there isn't a screen for you to be featured on, a stage for you to be featured on," said Boseman. "We know what it's like to be beneath and not above. And that is what we went to work with every day … We knew that we could create a world that exemplified a world we wanted to see. We knew that we had something to give."
An award for actors from actors
Glenn Close, who has been nominated for an Oscar seven times but has left empty-handed each time, took home a best actress SAG award for her role in The Wife. Best supporting actress went to Emily Blunt for her role in the horror thriller A Quiet Place, directed by her husband John Krasinski.
Rami Malek snatched best actor for his portrayal of the rock star Freddy Mercury in Bohemian Rhapsody. Dedicating his award to Mercury, Malek said, "I get some power from him that's about stepping up and living your best life, being exactly who you want to be and accomplishing everything you so desire."
Read more: Golden Globes: Bohemian Rhapsody wins top honor
The actor's awards pile is growing even as the film's director, Bryan Singer, is facing multiple accusations of sexual assault with minors — claims Singer has denied.
The award for best supporting actor in a film went to Mahershala Ali, who won for his performance in Peter Farrelly's interracial road trip Green Book.
Television awards
Sweeping the comedy series awards was the Amazon series The Marvelous Mrs. Maisel, which won best ensemble in a comedy series and nabbed individual honors for actors Rachel Brosnahan and Tony Shalhoub.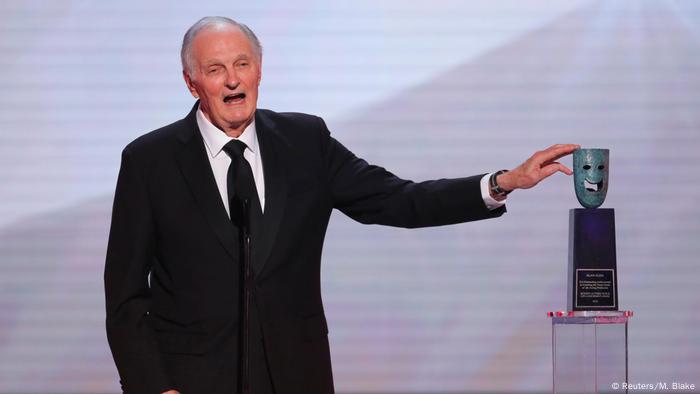 Alda recently revealed he is struggling with health issues
Actor Alan Alda, perhaps best known for his role in the series M.A.S.H., was presented with the lifetime achievement award by Tom Hanks.
"I see more than ever now how proud I am to be a part of our brotherhood and sisterhood of actors," said the 83-year-old actor. "It may never have been more urgent to see the world through another person's eyes. When a culture is divided so sharply, actors can help — a least a little — just by doing what we do. And the nice part is it's fun to do it. So my wish for all of us is: Let's stay playful."
ct/eg (AP, AFP, Reuters)