Two candidates once considered long-shots in the US presidential race pulled ahead of their establishment rivals on Tuesday to easily gain victory in the New Hampshire primary election.
Vermont Senator Bernie Sanders, a Democrat, won by a clear margin against his more famous rival, former Secretary of State and ex-First Lady Hillary Clinton.
On the Republican side, businessman Donald Trump took around 33 percent of the votes, beating out rivals with a healthy track record in US politics, including Texas Senator Ted Cruz and former Florida Governor Jeb Bush.
Vying for second
For observers supporting establishment Republicans like Bush, the fight for second place was just as significant as the one for first place.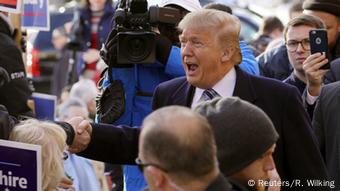 Billionaire Trump soundly defeated his Republican rivals
Ohio governor John Kasich held an early lead in the race for the second spot, followed by Bush and Florida Senator Marco Rubio.
For Trump supporters, the billionaire's victory is a vindication of sorts after his defeat at the hands of Cruz in Iowa.
"We are going to make America great again," Trump declared to his supporters, who frequently broke into cheers and applause and at one point chanted "USA! USA!"
Major victory for Sanders
Meanwhile, Sanders' decisive victory reaffirms his position as a formidable rival for Clinton, once seen as the inevitable Democratic nominee.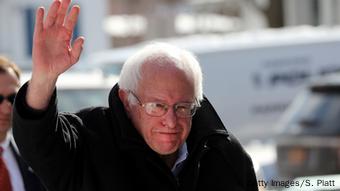 Democratic candidate Sanders was once seen as a long shot for the party's nomination.
The former mayor of Burlington, Vermont, won virtually across the board, earning the majority of votes from men and women, independents and voters under the age of 45.
"Together we have sent the message that will echo from Wall Street to Washington, from Maine to California, and that is that the government of our great country belongs to all of the people and not just a handful of wealthy campaign contributors," Sanders told his supporters following the announcement of the election results.
Clinton conceded defeat and called Sanders to congratulate him on his victory. Speaking before a crowd of chanting supporters, she assured her audience the fight had just begun.
"I will work harder than anyone to actually make the changes that make your lives better," Clinton said.
New Hampshire, a state of 1.3 million people, is the first state in the US to cast ballots in a primary. More than 40 percent of the voters there are independents.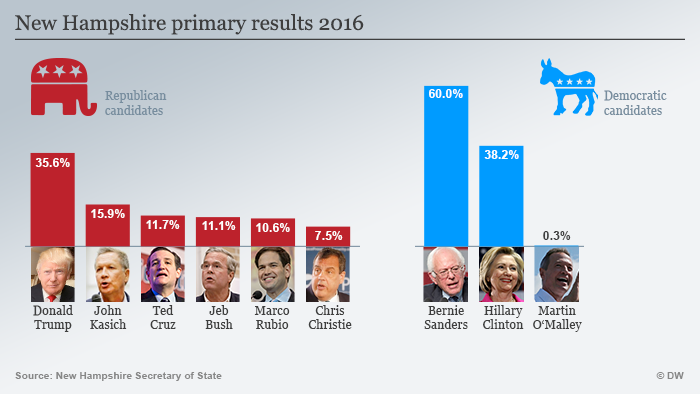 blc/bw (AP, AFP, Reuters, dpa)