In many cities around the world on any given day, you will find buskers trying their luck, hoping to stop passers by, find an audience for their musical expression, and fill a hat with well-earned coins.
Berlin's street performers, it seems, take the trade to a new level as entire bands, as well as singers equipped with anything from makeshift acoustic instruments to an array of professional amplifiers, set up in subway stations, flea markets, parks and squares all over the capital.
I always enjoy stumbling across a band or lone musician entertaining a ring of happy onlookers who just happened to be passing by.
On Sundays, it's less the famous flea market that draws me to Berlin's Mauerpark than the outdoor "concerts" showcasing musicians of varying talent.
Duet with a black box
Joining a crowd recently, I watched a smiling musician play guitar and bantering with his audience while pointing to a box emitting a bass-drum accompaniment.
"There's a tiny man playing drums in there," he joked.
Something about Frederik Konradsen's (pictured above) laid-back charisma seems to embody the freedom and fun of the city he has adopted as his home.
Like many musicians who play on Berlin's streets, the soloist, who was born in Madagascar, but grew up in Denmark, fell in love with the city's music scene and the liberty of being able to play where he wants and when.
"If I'm in town on a Sunday, I go to Mauerpark or to Kollwitzplatz," he told me. "During the week in winter, I go to Alexanderplatz, but as the weather gets nicer, I like to play around the Bode Museum. People hang out on the grass in the sun."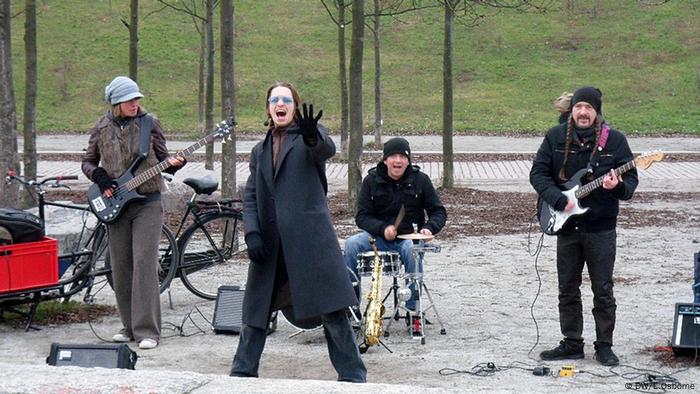 Rupert's Kitchen Orchestra will get your attention
One of the things that brought me to Berlin little more than a year ago was the life that it promised: more freedom over my choice of work, while still being able to afford to live and experience the city. In London, where you work hard and can nevertheless barely manage to pay the rent, that's more of a luxury than commonplace.
And Frederik says that's just the kind of lifestyle the city has afforded him.
"It's the freedom to get up in the morning and plan a concert 30 minutes before it takes place," he said. "It's spontaneous and if it doesn't work for me, I can pick up and leave. Most times with the audience, we have just met and as they meet me, they are presented with a choice to stop and to listen or to continue doing their thing. It's very liberating."
Working for a glance
Another band that have regularly caught my ear (and occasionally made me late for an appointment) is Rupert's Kitchen Orchestra. As vibrant and stimulating as the city itself, the singer strikes expressive poses to coerce hurried passers-by into stopping.
"You have to convince people with the music," said the group's singer and saxophone player, who introduced himself to me as Chrispy. "[Audiences] don't come because you're famous, they come because they like the music. And it's nice to have the direct contact."
The band formed in 1995 and have been playing in the German capital ever since, from Friedrichshain's Volkspark to the subway station on Karl-Marx-Strasse. Despite regular bookings in traditional venues, Chrispy says there's nothing they enjoy more than an impromptu open-air performance.
"It's easier for us," he said. "We don't have to plan to go somewhere, we can just see how it goes. When we play venues, we have to do sound checks and things like that."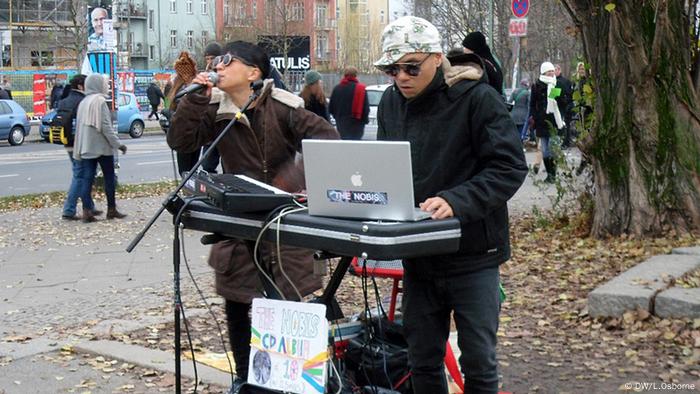 The Nobis come to Berlin now and then to perform
Just passing through
While Berlin offers an appealing base for many musicians to live and play, others are drawn again and again for just a few weeks or months in the year, bringing fresh sounds to Berlin's ever-changing music scene.
"We've just sold the most CDs ever since we got to Berlin," Emi Kashiwara, one half of the Japanese duo known as The Nobis, told me after finishing a synth set in Mauerpark a few days before they were due to leave the city again.
"People here really listen a lot," she added.
Much of Berlin's appeal lies in its atmosphere of creative spontaneity where anyone and everyone can put their artistic ambitions to the test.
Buskers not only provide an unmistakable soundtrack to this unique city, but also, for me, a reminder of why I came.