"I think Obama likes Berlin," says Jonas, grinning, as he takes a drag from his cigarette. The 36-year-old sits on a bench in the city's government quarter, and is happy that Barack Obama has once again shown up in the German capital. "Maybe I'll see the president's motorcade from my window," says Jonas, who lives on a main thoroughfare in the heart of the city. "It's very friendly of him to honor us with a farewell visit."
Obama has only visited Berlin twice, but those visits are well-remembered: In 2013 the president gave an impassioned speech at the Brandenburg Gate, and in 2008 - when he was just a candidate for the US presidency - he spoke at the Victory Column, to the enthusiastic reception of tens of thousands of people.
Berlin residents are not known for being particularly sentimental, but Obama hit the right notes. He understood the "spirit" of the city. That was the start of what would become a long friendship. Obama likes Berlin, and Berlin residents like him. And they had high expectations of the Democrat who entered the White House with a message of peace. What remains of that eight years on? Jonas peers out from behind a cloud of cigarette smoke as he reflects: "There wasn't a third world war," he says.
'A nice gesture'
Kolja Menning, who works for a US company in Berlin, also thinks that Obama's political successes have been rather modest. The president, he says, certainly gave good speeches, however, his policies often "went right past those in need." The 36-year-old says it was that widespread disappointment that led to the election of Republican Donald Trump. He says that the fact that Obama chose to visit Berlin again is a "nice gesture," but nothing more.
As he says that, an old man wearing a beret comes around the corner and ducks under an awning to get out of the rain. The man, an engineer who does not want to give his name, is an Obama fan. He says that the president has achieved much, from health insurance to good relations with Germany. "We won't get another one like him again," he laments. He says he would be very happy if he got the chance to see Obama in person.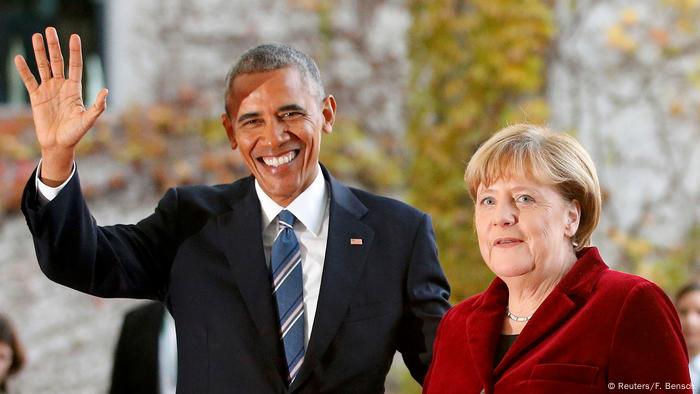 US President Barack Obama with Chancellor Merkel in Berlin
Highest security level
A few hundred meters further, on Wilhelmstrasse, a bookstore is displaying a book by Obama's successor Donald Trump - its title is "Great Again," and the subtitle is "How I Will Fix America." Trump is looking to reverse much of what Obama has achieved. What will become of America's close ties with Germany? Relations will cool, predicts a passerby. For her that is reason enough to pay respects to Obama one last time. Local newspapers feature his picture and warn about massive traffic problems. The subway between the main train station and Brandenburger Gate has been closed down as a security precaution.
Pariser Platz - restricted zone
Fencing has been set up around Pariser Platz. Obama is staying at the Hotel Adlon, which is situated on the square, as is the US Embassy. Usually bustling, the square is now completely empty. Suddenly, there is commotion: "Everyone get back - fifty meters (160 feet)," yells a police officer as he impatiently waves his arm. Irritated, several dozen pedestrians head back into Wilhelmstrasse. The Berlin residents complain because it will mean that they will miss important meetings. Tourists frown because it means that they won't be able to get photos of the Brandenburg Gate. Employees at Madame Tussauds wax museum have to vacate the premises for security reasons as well. Farewell visit? They don't find it all that sad: "We will always have Obama - as a wax figure."